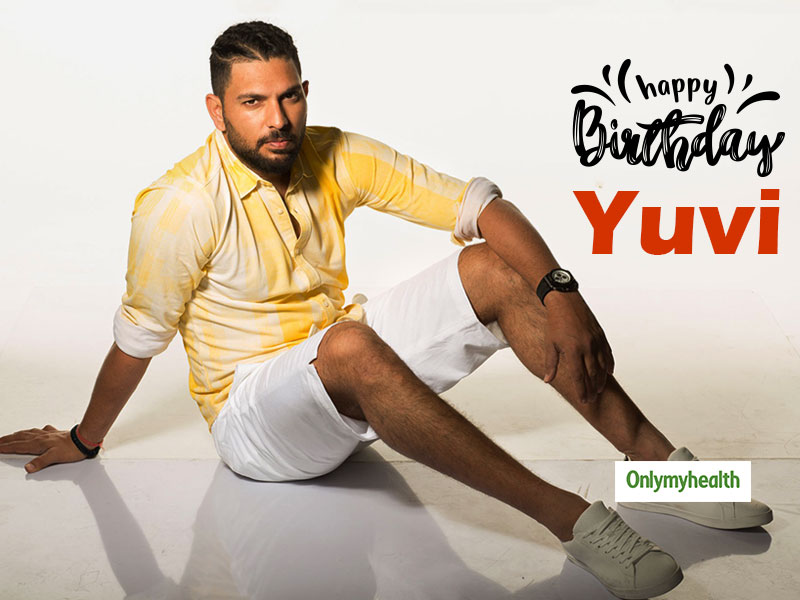 Yuvraj Singh Birthday Special: Yuvi's fitness game is on point. After defeating cancer, he is inspiring many people to fight for the life they want.
Who comes to your mind when you hear '6 sixes'? It could be none other than the ace cricketer Yuvraj Singh. Even if he's taken retirement from the sport, he is always remembered for his spectacular 19-year long cricket journey. But another thing that he's known for is his brave battle with cancer. In Yuvraj's words, "When you hear the word cancer for the first time, you really get scared. Cancer. It's like a death sentence. You become unsure where your life will take you."
He fought with cancer like a warrior. He came back healed within three months of chemotherapy treatment in the US. Ever since he is unstoppable. On the occasion of his birthday, we are sharing his life story with you.
The Year of Joy and Tears
2011 World Cup was special for Yuvraj for two reasons. First, the historic win of the team and second, he was titled 'Man of the Tournament'. Yuvraj was over the moon after lifting the winning trophy but this happiness didn't last long.
Soon after the tournament got over, he got diagnosed with stage-1 Seminoma Lung Cancer which shattered his world. During an interview, Yuvraj revealed that he ignored the initial symptoms to focus on the game. "At first I was in denial about it. Playing for India was more important than my health and for a few months I chose to ignore the blood I spat out or my decline in stamina.
The tears of sadness took over the celebratory joy. Talking about the moment, he said, "I cried like a baby. When no one could see me or hear me. Not because I feared what cancer would do, but because I didn't want the disease. I wanted my life to be normal, which it could no longer be!"
Also Read: Know About Chemo Curls From Cancer Survivor Sonali Bendre
Comeback for the undying love for cricket
After all the mourning, Yuvi decided to face the situation. He was quick enough to talk to a Cancer specialist in the United States of America and flew to the US to get treated.
He came back within three months knocking down the lung cancer after which he started his foundation 'YouWeCan' where he funds 25 cancer patients every year.
Also Read: 7 Fitness Beliefs That Are Actually Myths!
Fit Like Never Before
7 years have passed since he's got cancer-free. Now he looks fit as a fiddle. It is a myth that cancer plagues the health of the person. It depends on his/her willpower and dedication.
Yuvraj exercises daily to keep himself in his best health. He didn't let cancer take away the pleasures of his life. He chose to live which inspired him to fight against cancer.
Look at him now.
He follows a healthy lifestyle with regular exercising which helps him stay fit and active. He is a happy-go-lucky person and is often seen enjoying trips with friends. This shows that when you are determined for something, it will happen.
Read more on Exercise and Fitness