Tea is way much healthy than one can think of. It helps in providing an immense energy to our body. It does much more only if we know what tea to use and exactly how. It helps us in cleansing our body and a way more.
Tea is way healthier than one can think of. They help in providing immense energy to our body. The regular cup of tea can do much more only if we know what tea to use and exactly how. Different types of teas help in cleansing the body. No, you don't have to bathe with your tea, you will just have to enjoy it and it will help you flush out all the impurities from your body.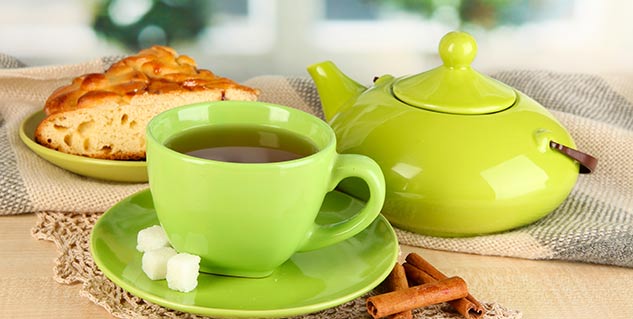 List of 10 Best Teas Used For Detoxification:
The following list of teas would definitely help one with the perfect cleansing of body with enhanced energy of course!
Green Tea
The green tea is the ultimate kind for any fitness related issue. The green tea has a lot of anti oxidants in it. This helps in total cleansing of the body which leads to weight loss too.
Ginger Tea
The ginger tea is not only healthy but also a very tasty option to have. One can have this particular tea any time of the day and still feel refreshed and detoxified totally. One can also be benefited of its medicinal value.
Garlic tea
With the only disadvantage of the garlic smell, this totally deserves a place on the list. But for people who love garlic, good news for them as this kind of tea helps in detoxifying the body totally.
Chicory tea
Chicory tea is increasingly used as a detoxifying agent in many households. If consumed in the form of root boiled in the tea then, it gives the best effect. It cleanses the body like none other.
Fenugreek Seed Tea
The profit to having Fenugreek seed tea is not only restricted to detoxifying the body. This particular tea also helps in better digestion and high metabolism of the body.
Manjhista Tea
This is one of the best multi-purpose teas. These teas don't only help in detoxifying the body but also help in purifying the blood and providing nutrients for the skin.
Red Clover Tea
Getting rid of the free radicals that people welcome with the floor is not an easy job. One must know that the red clover tea is enhanced with anti-oxidants which help with the best detoxifying.
Turmeric Tea
Sounds weird but with the help of the turmeric tea, one can totally lead a healthy life. The toxins can just flow out of the system with regular sips of turmeric tea. Also helps one fight various diseases.
Neem Tea
The Neem plant has a number of benefits to offer and when supplied in the form of tea, it only increases these benefits by many folds. The leaves of this particular tree can get rid of any kind of disease and detoxify the body too.
Cayenne Pepper Tea
With the ultimate kind of taste and qualities, this tea manages a spot on this list. This tea doesn't only detoxify the body but also helps in providing an immense energy for the day.
If one truly wants to get rid of all the bad elements from the body, then drinking these teas would definitely help them achieve their goal. These teas also have various medicinal values to them.
Image: Shutterstock