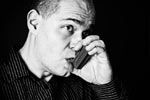 Here is a study that busts previously held belief that yoga could be of any help for asthma patients. Know what it says.
We believe yoga holds that power to promote self improvement in both the physical and mental aspects. Yoga has also been suggested to be good for asthma sufferers, but a new study says that the benefits of yoga for asthma are just a big bad hoax.

The researchers of this report had previously examined 14 previously published studies to determine the effectiveness of yoga in the treatment of asthma. This research is published in the June issue of Annals of Allergy, Asthma & Immunology.

Holger Cramer, PhD, the lead author of the study said, "We reviewed the available data to see if it made a difference and found only weak evidence that it does. Yoga can't be considered a routine intervention for patients with asthma at this time. But it can be considered an alternative to breathing exercises for asthma patients interested in complementary interventions."

The review included 824 adults who were previously part of the aforementioned 14 studies for evidence that would show how yoga can improve and control the symptoms, quality of life and lung function in patients suffering from asthma. The participants were chosen from North America, Europe, Africa and Australia. There was only one trial which included children, and this is why the effect of yoga on children could not be evaluated.

Allergist Michael Foggs, MD, ACAAI president said, "Many asthma sufferers look to complementary therapies, such as yoga, to help relieve their symptoms. If yoga helps them to feel better and breathe better, patients should by all means practice it. At the same time, we don't advise that yoga be recommended to asthma sufferers as a treatment."

The patients suffering from asthma should be in contact with their allergist and together they should work to determine the situations that prompt these attacks in order to avoid such situations when possible. The triggers for asthma includes exposure to allergens, respiratory infections and also cold weather and if the asthma is anything serious then it could turn unpredictable and can flare up more than twice a week. The asthma treatment with a long term control medication is strongly recommended for patients.

Image Source: gettyimages.in

Read more on Health News.