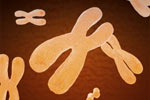 Chromosome Y, mostly been associated with sex determination, is now linked to men's life expectancy in a recent study.
Y chromosome, mostly been associated with sex determination and sperm production, but scientists at the Uppsala University claim that the Y chromosome also influences lifespan in men.


It is known that men have an overall shorter life expectancy compared to women. Now, there is a scientific evidence to prove the correlation between a loss of the Y chromosome in blood cells and both a shorter life span and higher mortality from cancer in other organs.

The study looked at the DNA in blood samples from a group of more than 1,600 elderly men. It was found that the most common genetic alteration was a loss of the Y chromosome in a proportion of the white blood cells. After studying the group of men for many years, the researchers found a correlation between the loss of the Y chromosome and shorter survival.

According to the study co-author, Lars Forsberg, men who had lost the Y chromosome in a large proportion of their blood cells had a lower survival, irrespective of cause of death. We could also detect a correlation between loss of the Y chromosome and risk of cancer mortality. He added that you have probably heard before that the Y chromosome is small, insignificant and contains very little genetic information. The findings suggest that the Y chromosome has a role in tumour suppression and they might explain why men get cancer more often than women.

The analysis of the Y chromosome could in the future become a useful general marker to predict the risk for men to develop cancer.
(Source: Times of India)
Read more Health News.