Ganesh Chaturthi is an important Hindu festival and celebrated throughout India with a great devotion and joy. This year, the festival falls on 5th September. In some parts of India, especially in South India, the festival is celebrated for 2 days, the first day for welcoming of Gowri while the next day for welcoming Lord Ganesh called Chaturthi.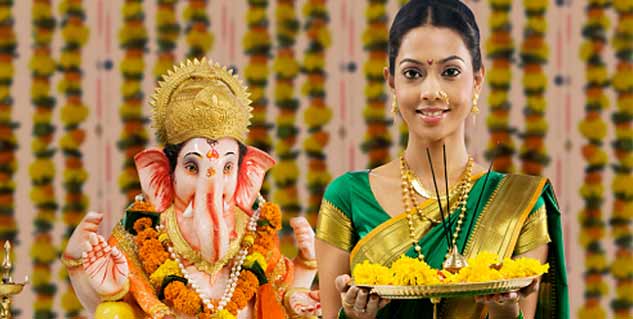 On this special day, it is important to offer naivedya to the Lord. For those who don't know what Naivedyam is, here is a brief introduction. Naivedyam is the food that offered to a Hindu deity as part of a worship ritual, before eating it. We are listing couple of popular naivedya recipes for lord Ganesha.
Modak
Modak is the most popular food offered as naivedyam to Lord Ganesha. It is traditionally made from rice flour and jaggery. However, you can also use wheat flour. Ingredients that you will need to prepare modak are as following
For the stuffing
1 bowl grated coconut
½ bowl jaggery
Dry fruits (almonds,raisins, pistachio, cashews) as per your choice
2 to 3 tsp pure ghee
A pinch of kesar, cardamom and nutmeg powder
1 tsp khas khas
2 tsp mawa (optional)
For the covering
2 bowls rice flour
A pinch of salt
2 tsp of oil or ghee
Hot water as per requirement
How to prepare it
Preparing the stuffing
Heat some ghee in a pan. Add khas khas and saute for a minute.
Add grated coconut, sugar, jaggery, cardamom and nutmeg powder and all dry fruits, mix all the ingredients thoroughly.
Cook till all moisture from the sugar and jaggery begins to dry on a low flame.
Overcooking will turn it hard and it will lose its taste as well. So ensure that you don't overcook.
Keep stirring every 2 to 3 minutes till it turns slightly golden yellow.
You can add more ghee if the stuffing feels too dry.

Preparing the covering
Boil the water in a pan
Add a pinch of salt and 1 tsp of ghee to the flour and mix it thoroughly.
Add 1 tsp of ghee in the boiling water.
Now add the dough to the boiling water. Lower heat. Mix well.
Cover the vessel and let it heat for 5 minutes to let the rice cook.
Knead the dough into a smooth paste without lumps.
You need to knead it while it is still hot. You may apply some oil or ghee on your palms.
If you feel the dough looks dry and hard, add some hot water and continue to knead till the dough turns smooth.
Making the Modaks
Apply pinch of oil/ghee on your palms and make small balls of the dough.
Flatten it to give the shape of a small bowl or cone.
Press the edges of the bowl-shaped dough with slight pressure at every 1 inch distance.
The edges of the bowl will now look like the petals of the flower.
Put some stuffing in the bowl and close the ends to give them a shape like fresh figs or momos.
Take a leaf of banana or a soft cloth like muslin, and apply bit oil/ghee on it and place it in the steamer pan.
Place all the modaks on the leaf or cloth and close the lid.
Steam it for 5 to 6 minutes and turn off the flame.
Your delicious modaks are ready to be served.

Apart from modak, you can also prepare jaggery rice kheer. Things you will need to prepare jaggery rice kheer are as following.
Small grained fragrant rice 1 cup milk
1 litres Jaggery- ½ cup
Bay leaves 2 Green cardamoms
Split- 4 Cashew nuts
broken into half-15
Raisins- ¼ cup Ghee- 1 Table spoon
Method of preparation
Soak rice in water for half an hour in a bowl and keep aside.
Saute the cashew nuts and the raisins in ghee till light brown. Remove and keep them aside
Pour the milk in a vessel and add bay leaves and green cardamoms. Bring the milk to a boil. Keep it stirring continuously.
Add the drained rice, fried cashew nuts and raisins to the milk.
Image source : Getty

Read more articles on Festival Fever