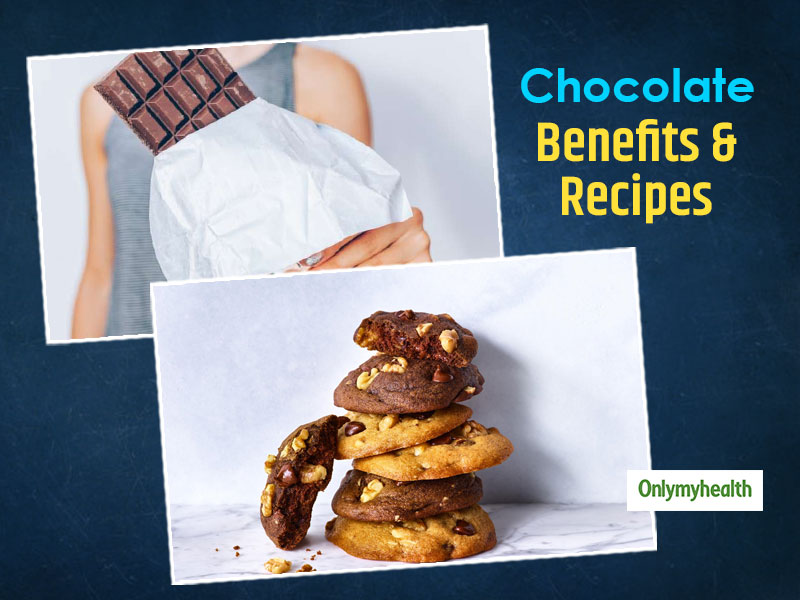 A soul food, and also a health booster, chocolate is something that we have always associated with cavities, weight gain or all things negative. But did you know that chocolate has some great health benefits to offer when consumed in the right quantity? Whether to calm someone's temper or make someone's heart happy, chocolate has always been a favourite choice. It is a mood lifter and does its job on lifting those happy hormones like nothing else. This is what makes it a soul food for those who are feeling low or the pressured due to various factors. With recent times being this heavy on almost everyone, chocolates can be something for people of all age groups. Be it work or personal life anxiety and stress, apart from going in for counselling, chocolate can become your best friend in times like these. According to scientific research, the polyphenols in chocolate can help aid depression.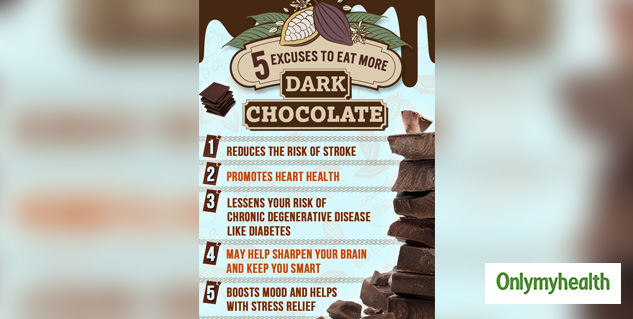 Other health benefits of chocolate include:
Chocolate for cholesterol: Dark chocolate helps reduce cholesterol. The polyphenols increase the HDL, i.e. good cholesterol in the body and reduce the harmful cholesterol.
Chocolates for antioxidants: Antioxidants are very important to protect the body from diseases. Hence cocoa has high amounts of phenolic antioxidants, which boost good health.
Chocolate For energy: The body needs the energy to function properly. The body feels sluggish, tired and weak due to lack of energy. If you want that sudden boost, have a piece of dark chocolate for its contains caffeine.
Chocolate for diabetes: Yes, you heard it right. Chocolates and diabetes do go hand-in-hand, and can also be beneficial for them. Cocoa and flavonols present in it may help reduce the risk of type 2 diabetes. But, keep a check on the sugar content. When making at home, replace sugar with honey, and milk chocolate with a dark one.
Chocolate for skin: Dark chocolate can be beneficial not only for your health but also for your skin. We all know how cocoa butter is used in many moisturisers, and dark chocolate contains it in plenty, which is a great booster for the skin. Also, consuming dark chocolate can protect the skin from harmful UV rays.
Relationship between stress and chocolates:
Also Read: Is Nutella Really Healthy, Let's Find Out
Hence, make the most of this chocolate day by making some delicious chocolate recipes to get all of these above-mentioned health benefits. Here are some delectable chocolate desserts by Chef Sabyasachi Gorai that will win your hearts straightaway!
Chocolate Chip Walnut Cookie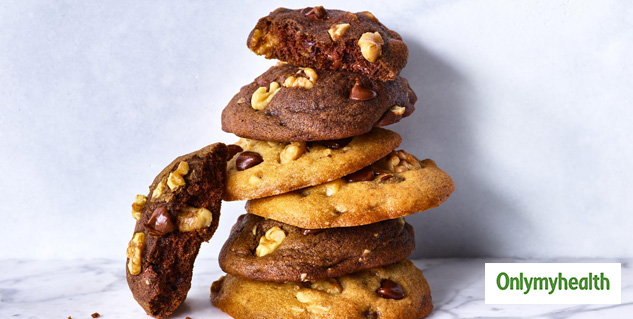 Ingredients
Softened butter: 1 Cup
Brown sugar: 2/3 cup
Sugar granules: 1/2 cup
Vanilla extract: 2 teaspoons
Eggs: 2 Numbers
Flour: 2 cups
Baking soda: 3/4 teaspoon
Salt: 1/2 teaspoon
Chocolate chips: As per requirement
California walnuts: As per taste and requirement
Preparations
Prepare the oven. Add sugar, butter, vanilla extract and eggs and mix.
In a separate bowl, mix baking soda, flour and salt and mix with the mixture made in the first step.
Add walnuts and chocolate chips as per taste.
Add the mixture into a baking tray and level with the help of the back of a spoon.
Bake for a few minutes (around 10 mins first) and then let it cool.
Serve with hot milk
Walnut, Chocolate, and Avocado Mousse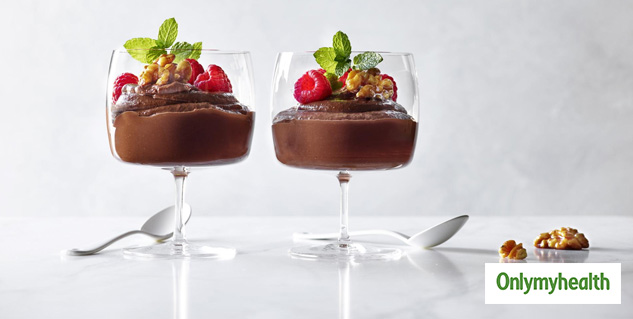 Ingredients
California Walnut Butter: As per taste
Cocoa powder (Sweet): 3 tablespoons
Honey: 2 tablespoons
Vanilla extract: 2 teaspoons
Avocado: 1; should be ripe, peeled
Preparations
Put walnut butter, cocoa powder, avocado, vanilla extract and honey in a blender and blend it smooth
Put in a small bowl, add honey on top and garnish with frozen fruits (optional).
Also Read: DIY Chocolate Peel Off Mask For Instant Glow
Chocolate Walnut Brownies
Ingredients
Butter: 3/4 cup
Chocolate chips: As per taste
Cocoa powder (unsweetened): 2/3 cup
White sugar: 1 1/2 cups
Flour: 1 cup
Baking powder: 1/2 teaspoon
Vanilla extract: 1/2 teaspoon
Eggs: 4
Walnuts (chopped): 3/4 cup
Preparations
Preheat oven to 180°c
Keep a baking pan ready by buttering it.
Put together butter and choco chips and melt. Once cool, add vanilla extract and eggs and mix. Do not mix in the hot batter as it might cook the eggs.
Mix dry ingredients in a separate bowl.
Add dry ingredients in the wet ones and mix and whisk.
Add walnuts and pour into the baking tin, which was kept aside.
Bake and do the knife checking test.
Read more articles on Healthy Diet