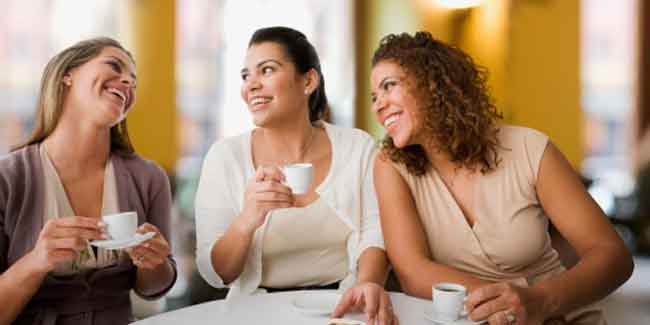 One cannot have enough reasons to love coffee and one more is now added to the list. Women who drink more coffee are at lesser risk of having tinnitus (ringing in the ears). But, at what cost? Find out.
Can't do without your daily kick from java? Now, you have more reasons to stay faithful- it will prevent your ears from ringing. Researchers from Brigham and Women's Hospital (BWH) have found that a cup or two of coffee prevents women from developing tinnitus. Tinnitus is defined as a noise or ringing in the ears.

The American Tinnitus Association estimates around 50 million people in the US to experience some degree of tinnitus. Some of them experience hissing, buzzing, roaring, clicking or chirping, while some one million are severely affected and cannot function normally in their day to day life.


The Study Findings
The study published in the American Journal of Medicine examined more than 65,000 healthy women, between the ages of 30 to 44, over a course of 18 years. The results showed that the more coffee the women consumed, the less tinnitus was diagnosed.

The study started in 1991, when researchers collected information on their medical history, lifestyle and diet. Back then, the average caffeine intake of women was around two and a half 8-ounce cups of coffee. Coffee was the biggest source of this caffeine consumption in women.

After 18 years, i.e. in 2009, the same women were enquired about tinnitus, including date of onset, where applicable. Out of all the women, 5, 289 cases of tinnitus were reported. An analysis of the results showed that the more caffeine women consumed, the less likely they were to have tinnitus.
What the Experts Say
The reason behind this observed association is unclear," said Dr. Gary Curhan, study co-author and a physician-researcher in the Channing Division of Network Medicine at BWH, in a press release. "We know that caffeine stimulates the central nervous system, and previous research has demonstrated that caffeine has a direct effect on the inner ear in both bench science and animal studies. Researchers note that further evidence is needed to make any recommendations about whether the addition of caffeine would improve tinnitus symptoms."


Is it Worth Drinking so much Coffee?
We love coffee as much as you, but having 5-6 cups of it every day can be a bit tricky. It does prevent your against hearing problems, diabetes, Parkinson's disease, and eye ailments, but you don't want to end up with having a coffee use disorder.

And while we are talking science, let's continue it. A study published in the Journal of Caffeine Research found that people, who drink coffee excessively, may experience withdrawal symptoms, such as agitation and anxiety, when they don't get their daily dose. Not scary enough? Probably because nobody told you anything about how overloading of caffeine can give you psychosis, osteoporosis, and muscle spasms.

"The negative effects of caffeine are often not recognized as such because it is a socially acceptable and widely consumed drug that is well integrated into our customs and routines," said Laura Juliano, study co-author and professor at American University, in the release. "And while many people can consume caffeine without harm, for some, it produces negative effects, physical dependence, interferes with daily functioning, and can be difficult to give up, which are signs of problematic use."

Bottom line is that there can be both good and bad effects of drinking coffee and you will have to beware of not doing it excessively. To be safe, go with what the National Institutes of Health recommends- consume no more than three cupfuls a day. Now, please dump all those extra cups of coffee crowding at your desk.

Image Courtesy: Getty

Read more articles on Tinnitus.