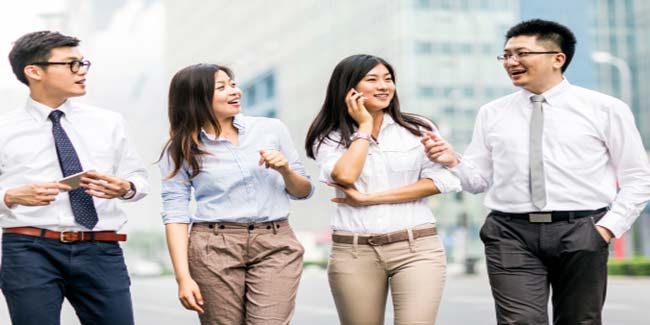 Walking is more than just physical exercise; it can give the brain the exercise it needs. Two short walks a day with your co-workers is an activity that will reap many benefits.
Eight hours of desk job isn't always easy and can drain your mind. Walking is a 'super exercise' that can save you; try to take two walking breaks a day at work. According to the journal Medicine & Science in Sports and Exercise, three five-minute walks amid three hours of prolonged sitting reverses the harmful effects of prolonged sitting, on the arteries.
Benefits of Taking a Walk at Work



Walking is the easiest way to promote better health and well-being. It is more than just physical exercise; walking can give the brain the exercise it needs. A short walk with your co-workers is an activity with many benefits. Here's how you can benefit from two short 10-minute breaks during working hours.

Easy Physical Activity – Walking is one activity that fits into lunch breaks/work-schedule easily . As it is a low-intensity activity, there is no need to get changed or shower!
Improves Health - Two 10-minute walks a day can do a lot of good to your health. Some of the health benefits of walking are better metabolism, weight management, increased cardiovascular health, improved lung function, stronger bones and improved management of conditions such as high blood pressure, high cholesterol, joint and muscular pain and diabetes.
Breaks Work, Reduces Stress – If your work day is crazy, you can benefit from a short walk outside. Walking has many mental benefits, including reducing stress and feelings of depression. It gives you time to reflect and shrug off your stress, shifting your brain into a calmer state. Quiet mind and increased awareness can contribute to productivity.
Energy Boost – Ever heard of a more energy and less fatigue stimulant? It is walking. A walk outside for 10 minutes can help you feel more energetic. Lunchtime walk can help you return refreshed so you can resume work with more energy.

A Chance to Connect with Others – Spending time with friends is one of the great stress-busters. Taking a walk outside with colleagues can be a social activity. Work may not give you enough time to know each-other in the way you would want to, but a walk gives you time and opportunity. It also help you network with your team to understand various aspects of the work.
We spend 3/4th of our life at work. Therefore, it has to be the location to promote healthy living. The benefits of walking during lunch hour are many! You can burn calories to keep your weight down, increase your metabolism and many more. Go walking!
(Image source:Gettyimages)
Read more articles on Office Health.