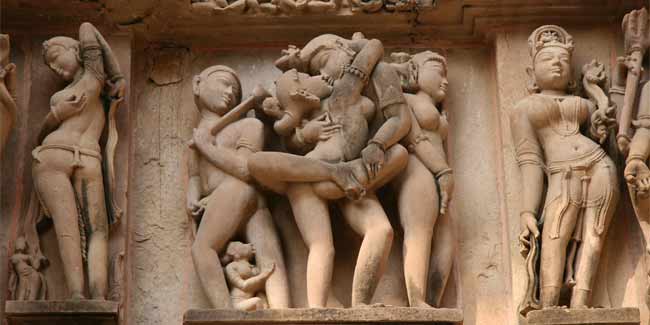 Kamasutra is a manual for human sexual anatomy. Kamsutra has a wide appeal on intimacy & lovemaking positions. Here's why is it so important for the youth?
Presently, Kamasutra is a byword for sex or is seen as a manual for human coition. The literary work which is 2000 years ago now has a wide appeal besides contemporary relevance. Featuring 1250 verses compiled in 36 chapters are organised into 7 parts, Kamasutra provides an excellent commentary on various aspects of life, particularly the objectives of existence. Over the years, kamasutra has been translated into many languages, making its space in the world literature.
[Read: Have Sex the Kamasutra Way]
Puts Light on Human Relations
Most of us believe it to be a scripture exclusively on sex or sex positions. The Kamasutra sure is about sex and sex positions, but the youth can learn several aspects of human relations from it. It can be described as a guide book on the art of leading a virtuous life, as the compilation touches upon aspects of social and individual life (love, family life and pleasure-oriented activities). Some of the compendium's sections are solely dedicated to courtship, marriage, family, social life, extra-marital, same-sex relations, passion and power. In a nutshell, the scripture is a conceptual framework for what human relations actually are.
An Insight into Lifestyles of Cultured Men and Women
For youth, the Kamasutra teachings offer an insight into the lifestyles of cultured men and fashionable women. Moreover, the details on certain aspects such as ethics, morality and spirituality can answer many of youth's questions. It doesn't teach to segregate wrong from right, it does envisage human actions (dharma or virtue and righteousness, artha or wealth and power, and Kama or pleasure).
[Read: Kamasutra Sex Positions for Healthy Life]
Spreads the Meaning of Life and how to lead a Successful One

The manual also has a wider sweep of life and thought in ancient India, most of the facets that have extinct today. According to the sage Vatsayan, there are four objectives for the existence of human beings – Dharma (religious discipline), Kama (desires which include carnal pleasures), Arth (means of livelihood and creation of luxuries) and Moksha (ultimate salvation). The scripture emphasises on the shastra for attainment of these objectives.

The teachings of Kamasutra preach youth to stay enthusiastic, full of faith and have capacity to fulfil four objectives of life's existence. For those who are getting married, Kamasutra teaches the essentials to ease the relationship before a couple tie the nuptial knot. The ancient manual should be studied by all, old as well as young, to get an insight on the impartial and systematic facets of existence.
Read more articles on Kamasutra.