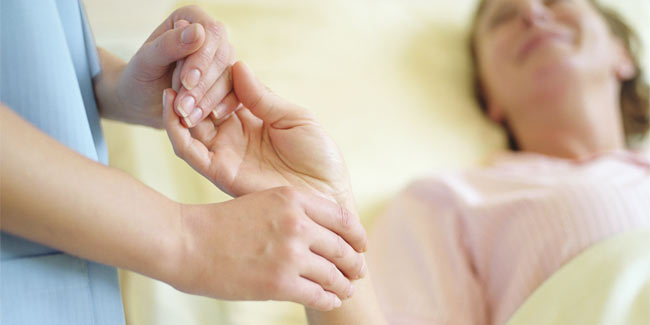 Bringing care to the homes of less privileged cancer patients who now have nothing left to sustain them is the need of the hour and Palliative care for cancer can gift just that.
When Sumita entered a room, one forgot all about her emaciated body and bald head, it was her warmth that enveloped the onlooker. She was a young working woman in her 30s who had been diagnosed with colorectal cancer two years earlier. After several rounds of treatment, she had been told that her cancer was back and that nothing more could be done. What followed were weeks of unendurable agony. At that moment the thought came to my mind that no one should have to suffer the way she had. Why had the medical system failed to provide her with dignity, hope and comfort in her final days?
[Read: Cancer is Curable if Detected Early]
I found my answer in a branch of medicine called palliative care. It responds to the needs of people who have life limiting and progressive diseases like cancer, HIV, AIDS, etc. Through a collaborative effort between doctors, nurses, counselors, social workers and others it ensures that people like Sumita do not suffer unnecessarily. The family too is included in the circle of care. They are taught how to nurse their loved ones more effectively and are counseled and prepared for what lies ahead.


Palliative care in cancer is not expensive as it is not high tech care, rather it is high touch care. The emphasis is on responding to the overall needs of the patient and journeying along with him or her by building a relationship based on mutual respect and understanding. It focuses on listening to the patient in a non-judgmental way. It is skilled and compassionate care of the highest order. The effort of the palliative care team is to keep reasonable hope alive by improving the functional ability of the affected person in all its aspects: physical, psychosocial and spiritual.
[Read: What you need to know about Cancer]
Bringing care to the homes of less privileged cancer patients who now have nothing left to sustain them is the need of the hour. These patients and their families would otherwise be left to fend for themselves in a world too eager to take advantage of them. We have seen instances of unscrupulous practitioners fooling people by promising a cure. There is nothing worse than raising false hopes and then dashing them. In India, providing economic support is also a pressing need.


For all the reasons cited above, it is a welcome development that palliative care is now being recognized by our policy makers and is being taught in nursing colleges. We wait for the day when it will become part of the undergraduate curriculum for doctors as well. It will not only provide them with good communication and cancer symptom control skills but will also sensitize them to see a cancer patient not as a "case" but rather as a fellow human being. What is to be remembered is that palliative care in cancer should go hand in hand with treatment of cancer from day one and that it is best delivered by a team.



Read more articles on Cancer.