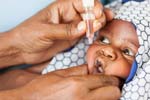 Countries including India have to maintain their fight against polio despite WHO's polio-free certification, says WHO's Poonam Khetrapal Singh.
The day India was officially certified by the World Health Organization as a polio-free country, several reports came out of Iraq suspecting a case of polio re-infection (first in the last 14 years). The certification comes as a reminder that being polio-free was just a part of the battle and that the real deal was to continue to stay the way, especially considering that the neighbouring countries namely, Pakistan besides Afghanistan and Pakistan were still reporting polio cases.
WHO's Poonam Khetrapal Singh said that all the polio-free countries that were certified so by the World Health Organization including India will have to continue their immunisation programmes along with surveillance as well as emergency response playing an important role in picking up as well as tackling the possibility of a re-infection.
She added that being a polio-free country is in itself a massive milestone, though it is not the end. Singh heads the 11-country South East Asian region. WHO's polio eradication plan wishes and expects to eradicate polio from the entire world by the year 2018. The priority is to eradicate polio cases in Pakistan as well as Nigeria. Conflict-hit regions that lead to displacement of people make it harder for one to run the immunisation programmes. Polio vaccination drives are viewed with suspicion in places because of the fears that it is a tool for sterilisation.
Image coutesy: Getty Images
Source: The Hindu
Read more Health News