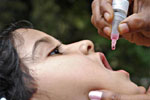 India is now polio-free! The World Health Organization gives a clean chit on the current polio status in India and the South East Asia.
About 80 percent of the world's population is now certified to be polio-free by the World Health Organization.
The South East Asia region, which comprises of 11 member states, namely, Bangladesh, Democratic People's Republic of Korea, Indonesia, Bhutan, India, Maldives, Nepal, Myanmar, Thailand, Sri Lanka and Timor-Leste.
India has not reported even single wild polio case in the last three years and the last known case reported was of an 18-month-lold girl from Kolkata in 2011. Before any region can be called polio-free, there must be no cases of indigenous WPV for at least three years. Regions that are still plagued by the polio virus include the East Meditteranean region that includes Pakistan and Afghanistan along with the African region that includes Nigeria. Pakistan is still strugglign with the infection with the number of cases rising forom 58 in the year 2012 to 92 in the year 2013. As far as Afghanistan is concerned, the number of polio cases has dropped from 37 in the year 2012 to 14 the previous year.

The certification of the South East Asian region comes as countries get set for the injectable inactivated polio vaccine to come into routine and be a part of the final phasing out of oral polio vaccines. At least more than 120 countries today use only OPV and these countries will make sure to introduce a dose of IPV by the end of 2015 as part of a commitment towards the complete eradication of polio by the ear 2018.
Even though India is now polio-free, it still carries the threat of acquiring the disease from neighbouring countries where the infection is still rampant. Therefore, the country must stay alert.
The achievement makes the South East Asia region the fourth WHO region to be certified polio-free.
Article source: DNA
Image courtesy: chai-india.org
Read more Health News.