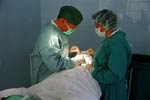 The most appropriate wat to remove the parathyroid cancer is surgically, but this is only done if you have cancer that is limited to your parathyroid. Alternative treatments involving radiation, surgery plus radiation or chemotherapy may be done
Parathyroid cancer is a cancerous (malignant) growth in a parathyroid gland. This cancer form is usually associated with high blood calcium levels. Once your doctor confirms that you have parathyroid cancer, the treatment of the disease begins. The treatment of parathyroid cancer involves only your parathyroid gland or has spread (metastasized) to other areas that include the lymph nodes, lungs, bones and liver.

The cancerous parathyroid gland will be removed surgically together with your thyroid gland if you have cancer that is limited to your parathyroid. Before surgical removal, medication will be given to control your blood calcium levels. Those with metastatic parathyroid cancer may have to pursue clinical trials that are evaluating alternative treatments involving radiation, surgery plus radiation, or chemotherapy.

If a patient can't be treated surgically, his/her high calcium levels are controlled with plicamycin (Mithracin), pamidronate (Aredia), calcitonin (Calcimar, Cibacalcin, Miacalcin), or, less commonly, gallium nitrates (Ganite).

Prevention of Parathyroid Cancer

As the risk factors or causes for parathyroid cancer remain unknown, there is no way to prevent it. Heath experts recommend simple lifestyle changes to ward off the risk. These lifestyle changes include healthy eating, maintaining healthy weight and avoiding risky behaviours to prevent infections.

Expected duration of Parathyroid Cancer

Parathyroid Cancer is mild in comparison to other cancer forms; it is not expected to cause death to the patient. Most individuals with parathyroid cancer have localised disease, which can be treated with surgery. Parathyroid cancer continues to spread if medical treatment is not pursued. In a few cases, cancer may recur within two to five years after surgery.
Read more articles on Cancer