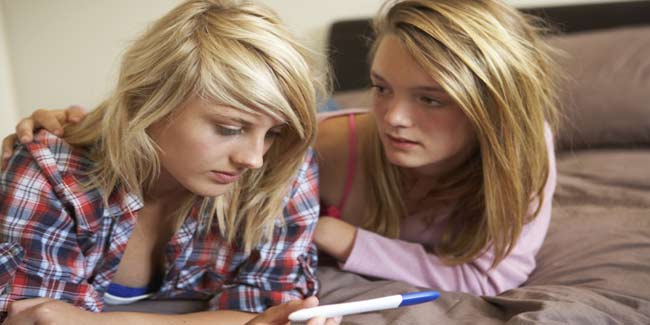 Pregnancy in a female in her teens is referred as Teenage Pregnancy. Know all the issues, complications, tips and prevention related to pregnant teens.
If a girl in her teens (between the ages of 13 and 19) becomes pregnant, it is called teenage pregnancy. It is more rampant in western countries than those belonging to third world or "developing" category.



According to stats provided by The National Campaign to Prevent Teen and Unplanned Pregnancy, 30 percent of girls in USA get pregnant at least once before reaching the age of 20, i.e. there are many cases of teen pregnancy on more than one occasion. In India, this problem is inter-connected with the issue of child marriage.

Teen Pregnancy Issues
In US, 85 percent of teen pregnancies are unplanned; hence the problems and complications arise.
An unplanned teenage pregnancy is not only inherently inappropriate but given the fact that teen mothers are not prepared for it, they delay prenatal care or do not recieve it at all.
The bodies of teenagers are growing and in the case of teenage mothers, they should allow for nutrition of their babies too. She has an urgent need for nutrition counselling without which she is likely to fall prey to conditions such as anaemia, low birth weight of progeny and others.
Teenage pregnancy has a lifelong impact on the young mothers. The most lasting effect of such pregnancy is caused by the emotional strain of planning for parenthood.
In countries such as India, the problem of teen pregnancy is confined to rural areas in most states.
UNICEF statistics reveal that teenage pregnancy and motherhood is 9 times higher among women who have had no schooling compared to those with 12 years or more of schooling, in India.
A grave concern of maternal mortality is also associated with teenage pregnancies in India. Due to lack of basic healthcare facilities, the teenage mothers can hardly bear the strains and health hazards of bearing a child at a young age.
The strain that teenage pregnancy brings for young Indian girls affects them for the rest of their lives. That is why most women in India are anaemic.
Close to 78000 women die every year due to childbirth in India.
The problem of teenage pregnancy has also started to show up more in urban areas of India, albeit due to rise in acceptance of pre-marital sex as normal among youth. Moreover, proper sex education is not given to children because parents hardly expect their children to behave so.

Teenage is a time in our lives when we may not be emotionally and financially ready to deal with having a child. Be brave; you have a challenge ahead of you.
Read more articles on Teenage Prenancy.