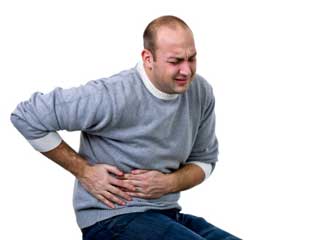 Abdominal fullness or pain, which may occur after a small meal, dark stools, difficulty swallowing, which becomes worse over time, and loss of appetite are some symptoms of gastric cancer.
Stomach cancer, also known as gastric cancer, is a malignant tumour developing from the lining of the stomach. In the past 60 years, there has been a substantial reduction in the number of people diagnosed with stomach cancer.

When a gastric cancer first develops, it is small and usually causes no symptoms. Some do not cause symptoms even until they are quite advanced. Initial symptoms may include:
Pain or discomfort in the upper tummy (abdomen), especially after eating.
Indigestion. (Most people with indigestion do not have stomach cancer.)
Feeling sick, and being off food. Some people have a sense of fullness after eating.
Weight loss and/or loss of appetite.
You may pass blood out with your stools (faeces). This usually presents as black faeces (called melaena) or dark blood rather than bright red bleeding - which is more unusual with stomach cancer - and implies very serious bleeding in the stomach or bowel.


As the cancer grows in the stomach, symptoms may become worse and may include:

The same symptoms as above, but more severe.
Feeling generally unwell and more tired than usual.
Becoming anaemic if the tumour regularly bleeds. This can cause you to become more tired than usual.
The cancer growing very large and causing a blockage to food and drink.

If the cancer spreads to other parts of the body, various other symptoms can develop.

When a person goes to the doctor because of signs or symptoms they are having, doctors can suspect gastric cancers based on them. The doctor will take a history and examine the patient. If stomach cancer is suspected, there are tests done to confirm the diagnosis.

Image: Getty

Read more articles on Understand Gastric Cancer.