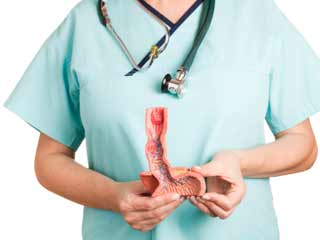 People with Barrett's oesophagus have an increased risk of oesophageal cancer. Still, the risk is small, especially in people whose lab test results show no precancerous changes.
The muscular tube that transports food from your mouth to the stomach is known as oesophagus. When cells of the oesophagus lining get damaged, the condition is called Barrett's oesophagus. The condition may be caused by exposure to acid from the stomach.

The exact cause of Barrett's oesophagus is not known but a person suffering from gastroesophageal reflux (GER, or heart burn) for many years can usually develop this condition.

The abnormal cells caused by Barrett's oesophagus can become cancerous in some cases, though this is rare. A person suffering from Barrett's oesophagus can be exposed to certain other risks.

Complications of Barrett's Oesophagus
A person suffering from Barrett's oesophagus stands at an increased risk for oesophageal cancer. Though the risk is small, it does exist. This risk is all the more less in people whose lab test results show no precancerous changes in their oesophagus. Most people with Barrett's oesophagus won't develop oesophageal cancer ever.

According to studies, most people with Barrett's oesophagus overestimate their chances of getting an oesophageal cancer; they perceive the risk to be higher than it actually is. This makes them needlessly stressed and anxious.




If you've got oesophageal cancer and you worry about your risk of developing oesophageal cancer, ask your doctor to explain your chances for the condition. This may help to relieve you off your worries. Also ask what you can do to reduce your risk. This may help you feel more in control of your health.

Preparing for Doctor's Appointment for Barrett's Oesophagus
Barrett's oesophagus is most commonly diagnosed in people with GERD. When these patients undergo endoscopy to confirm the detection of GERD complications, their doctor's may notice the presence of Barrett's oesophagus.

Your doctor may then refer you to a gastroenterologist (specialist of digestive diseases). This appointment can be brief, and you might want to discuss a lot so, it will help you to prepare your questions in advance.

You must write down any symptoms you're experiencing, including any that may seem unrelated to the reason for which you scheduled the appointment.
Write down key personal information, including any major stresses or recent life changes. Plus, make a list of all medications, vitamins or supplements that you're taking.

For Barrett's esophagus, some basic questions to ask your doctor include:
Does my lab report show dysplasia? If so, what is the grade of my dysplasia?
Were my biopsy samples examined by a gastroenterological pathologist? If I have dysplasia, did two or more pathologists agree on the diagnosis?
How much of my oesophagus is affected by Barrett's dysplasia?
Will I need to undergo another endoscopy exam to confirm my diagnosis?

Your doctor is likely to ask you a number of questions. Being ready to answer them may allow time to cover other points you want to address.

Image Courtesy: Getty
Read more articles on Barretts Esophagus