Cardioversion is a medical procedure which is done when a person suffers from abnormal heartbeats (arrhythmias). The treatment is given in order to restore normal heartbeats of a patient.
During the procedure electric shocks are sent to the heart through electrodes which are placed in the chest. In normal cases, cardioversion is done through medication to restore the normal heart rhythm. But, depending on the severity of the situation, shock treatment can also be opted by the doctors.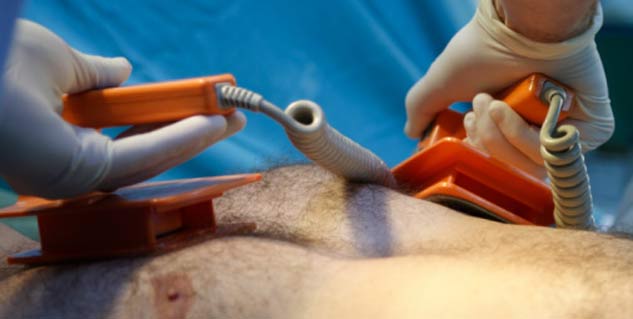 When is it done?
The procedure is undertaken by a person when their heartbeats are either too fast (tachycardia) or irregular (fibrillation). In these conditions, the electrical signals, which make the heart beat at regular intervals and at a normal speed, do not travel to the upper chamber of the heart.
During the procedure, the patient is given sedatives and electrodes are attached to the chest. The procedure does not take much time and the results can be obtained more quickly as compared with the results obtained from cardioversion medications.
Risks associated with the treatment
The complications attached to the treatment are very rare and even there are any complications, your doctor can take steps to reduce the risk.
The risks associated with cardioversion are:
Dislodged blood clots
Some people suffering from arrhythmias may also have blood clots in their hearts. When a patient under goes cardioversion, there are chances that the blood clots moves to other parts of the body increasing the life-threatening problems like a stroke. However, blood clots can very easily be detected by your doctor before cardioversion is performed. If clots are located, the patient can be given blood thinning medications for few weeks before the treatment.
Abnormal heart rhythm
Sometimes during or after the procedure many patients may end up having other heart rhythm related troubles. If the problem occurs, it can be rectified by giving additional shocks or medications by your health care provider.
Low blood pressure
Some patients may also experience low blood pressure after the treatment. The lowered blood pressure usually improves on its own without any treatment.
Skin burns
As the electrodes are placed directly on the skin, some people may experience burns on the skin after the procedure.
Cardioversion and pregnancy
Although pregnant women can undergo the treatment but, it is always recommended that the child's heart beats must be checked before the procedure begins.
Preparing for the procedure
Cardioversion is usually planned well in advance but, if your symptoms are severe your doctor may advice you to have the treatment on urgent basis.
You will be advised to not to eat or drink anything before 12 hours of the procedure. You may also have to take medication before the procedure if your doctor sees the need and if so, you must only have enough water to gulp in the medicine and not more than that.
Cardioversion can give instant results to the patients but, all the risks associates with it must be weighed beforehand.
Image courtesy: Shutterstock