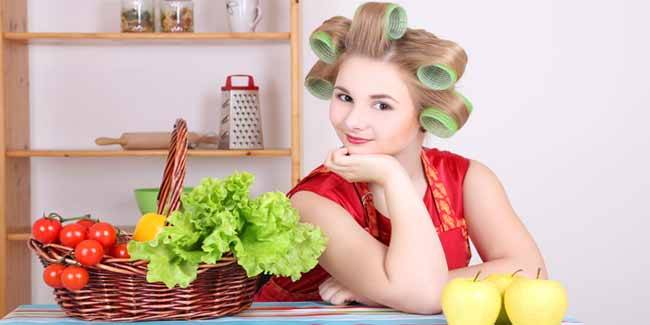 What you feed your hair is what it will reflect. Make sure your diet is full of hair-friendly nutrients that will help it grow just the way you want.
Elizabeth Cunnane Phillips, trichologist at Philip Kingsley Trichological Clinic in New York City says that healthy foods feed the hair the nutrients it needs to nourish itself just how they nourish the body.


A diet which includes the major food groups and contains enough vitamins and minerals to prevent hair loss is very important for hair care. An improper diet can lead to such nutritional disorders as anaemia or protein deficiency which can cause hair loss. Diets low in protein and iron and also those high in protein but low in fruits and vegetables can cause significant hair loss. So stick to a balanced diet.

Eating iron-rich foods like soy, tofu, lentils, beans, oysters, spinach, prunes, raisins can provide you with enough iron. You should also include foods rich in vitamin C in your diet. Vitamin C will help your body absorb the kind of iron that is found in vegetables. You should also get enough proteins and calcium to have healthy hair.
Below is an ideal diet for lustrous, fuller and shinier hair.
For Softness
There are a lot of things in the atmosphere that can dry the hair out like free radicals from the sun, the air in general and even your blow-dryer. The best you can do to shield your hair from the onslaught of such inexplicable plight is take the help of antioxidants that certain fruits are dense in. Dr. Whitney Bowe, who is a dermatologist located in New York, says that one can find a lot of polyphenols in deeply coloured fruits like blackberries, cherries, blueberries, pomegranate, etc. Add these fruits into your daily servings of fruits and vegetables.
For Hair Growth
If the level of vitamin C in your body is less than 75 mg of RDA, there is a chance that it will take your hair to grow even longer than a month to grow a centimeter (which is the average hair growth/month in healthy individuals). Vitamin C is a very important component that goes into enhancing the skin and hair. It is vitamin C that is responsible for building collagen and allowing the growth of new hair cells. Try gulping oranges, strawberries, red pepper, grapefruits, etc in your daily servings.
For Less Breakage
If you keep your biotin intake up, there is a chance you will have tough hair that is least prone to breakage. It has been found that the hair of patients who have less biotin is more likely to break compared with those who have enough of it. Some of the foods that are rich in biotin include avocado, egg, salmon.
For Thickness
According to experts, the hair growth cycle has three phases that of growth, transition and rest. So, if you have a lot of strands in the growth face, your head will appear fuller with hair. Some of the important nutrients needed for the growth of healthy hair include protein, zinc and iron. The best sources of these nutrients include red mean, kidney beans, dark-meat turkey and oysters.


Read more articles on Hair Care.