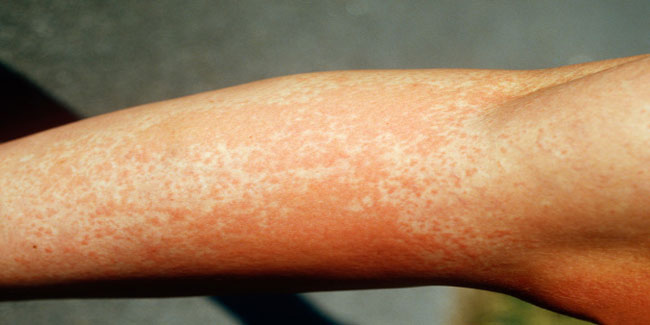 Most cases of dermatomyositis respond to therapy. The disease is usually more severe and resistant to therapy in individuals with cardiac or pulmonary problems.
Dermatomysoitis is a rare inflammatory condition in which the muscles get inflamed. It can affect anyone from children to adults. It is common in children between 5 to 15 years of age and in adults it occurs from late 40s to early 60s. Although there is no cure for dermatoysoitis but the symptoms may improve at times.
Causes of Dermatomyostis
The exact cause is not known yet but it has similarities with autoimmune diseases. Autoimmune diseases occur when the antibodies attack the healthy cells. People who have viral infection or cancer are more prone to getting dermatomyositis.
Symptoms of Dermatomyositis
Rashes on the face, chest, nails, or elbows that can appear to be red or violet are common symptoms of dermatomyositis. Some other signs and symptoms dermatomyositis include:
Pain in the muscle
Tenderness in the muscle
Problems in swallowing
Lung Problems
Hard calcium deposits underneath the skin
Fatigue
Unintentional weight loss
Fever
Diagnosis of Dermatomyositis
It is considered as the easiest of the inflammatory muscle diseases to diagnose due to the appearance of rashes. Even when there is no muscle dermatomyositis, but the doctor will be able to diagnose it with the amyopathic dermatomyositis. Some tests that can be done to confirm the diagnosis include:
Magnetic Resonance Imaging: It is to look for abnormal muscles
Electromyography: It can be done to record electrical impulses that control the muscles
Blood Analysis: blood test is done to check the levels of muscle enzymes and auto antibodies
Muscle Biopsy: It is done to know the inflammation and other problems associated with the disease.
Skin biopsy- skin sample will show changes caused by the disease.
Treatment for Dermatomyositis
There is no cure for dermatomyositis yet but the treatment is done to improve the condition of the skin and muscle weakness.
Prognosis for Dermatomyositis
The response to the therapy is good in most cases of dermatomyositis. People who have cardiac or pulmonary problems may show some resistant to the therapy.
Image Courtesy : Getty
Read more articles on Dermatomyositis Diagnosis and Prognosis