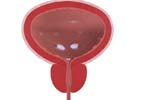 What is Interstitial cystitis:It is a clinical bladder condition, in which the bladder wall becomes inflamed, causing pain and frequent or painful urination. The pain can range from a mild burning, tenderness, discomfort or to intense pain. I
Interstitial Cystitis is a clinical condition of the bladder, in which there is tremendous pelvic pressure resulting in pain. This pelvic pain or pressure is sometimes accompanied by suprapubic discomfort in the bladder and often the frequent need to urinate or only the urge to urinate as well. The pain can range from a mild burning, tenderness, discomfort or to intense pain. It might get worse, when the bladder is full or even as it is being emptied through the process of urination. While children, men and women can be affected by interstitial cystitis, women are affected a majority of the time. Symptoms of interstitial cystitis are heightened in women during their menstruation cycle. Interstitial cystitis is known to have a lasting effect on the quality of life.
[Read: Symptoms of Interstitial Cystitis]
Nature of Interstitial Cystitis
Interstitial Cystitis is widely known by various names, mainly due to its varied symptoms. Painful bladder syndrome (PBS), bladder pain syndrome (BPS) and chronic pelvis pain (CPP) are some of the alternate labels for this ailment. Due to its varying nature and display of a range of symptoms, scientists believe that interstitial cystitis could well be a result of more than one disease source. In recent times any disease related to urinary pain, except those that are caused by urinary stones or infections are connectedly related to interstitial cystitis. Likewise, frequent urination cannot always be related to interstitial cystitis. An individual suffering from interstitial cystitis may need to urinate close on 60 times a day.
Risk Factors Concerning Interstitial Cystitis
Interstitial Cystitis is not known to be caused by any external behaviour like the use of nicotine or consumption of alcohol. The chances of incubating interstitial cystitis are most likely through a genetic connection, which essentially means that an individual, who is relative infected by interstitial cystitis, has more chances of having the disease than an individual, who doesn't have a relative with the disease. That being said, there is statistical data that shows women to be more perceptible to interstitial cystitis than men. This difference in the affect of interstitial cystitis in men and women may not be as gaping, when the number of 'prostatitis' (a condition with similar conditions to interstitial cystitis seen in men) cases are studied.
[Read: Diagnosis of Interstitial Cystitis]

Causes of Interstitial Cystitis

Interstitial cystitis is the subject matter of research throughout the world. In an attempt to pin point the exact cause of interstitial cystitis; various probable causes have been slotted, which are:
Bladder defect: The lining of the bladder consists of a protective layer that blocks the tissue from toxic urine. When this lining is infected, viruses and other toxins are noticed on the wall of the bladder, which could lead to symptoms of interstitial cystitis.
Swelling of certain cells (mast cells): When mast cells (which release histamine on inflammation), get swollen, they release histamine, which is responsible for the symptoms of interstitial cystitis.
Immunity system defects: When the immunity of a system is lowered, it sometimes has negative effects on the urinary bladder. For instance, a simple and other wise painless process of urinating might become painful due to influx of fungi and bacteria in the muscles of the urethra.
Nerve condition: The nerves inside the bladder sometimes turn sensitive, which might cause painful condition, resulting in one of the symptoms of interstitial cystitis.
The effects of interstitial cystitis often vary from person to person and sometimes even within the same individual. An individual might even experience a drastic decrease in the symptoms at times. A definite cure for this unsteady ailment hasn't yet been discovered, but there are numerous medications and therapies, if followed through, can offer substantial relief from the symptoms.
[Read: Treatment of Interstitial Cystitis]


Interstitial cystitis may well be caused due to the genetic make-up of an individual. The exact cause of this disease, however, is yet to be discovered. The current world wide statistic shows that women are seen to be more affected by interstitial cystitis and hence, it is advisable that women folk discuss this issue in their families. This will help detect the disease through widespread awareness.


Read more articles on Interstitial Cystitis.