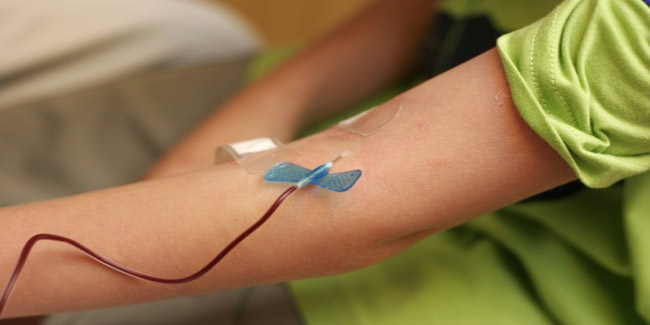 Fanconi anemia is serious blood disorder usually found in children and may cause serious problems such as shortage of new blood cells, leukemia and bone marrow failure. Usually it requires a bone marrow transplant however it has a low success
Fanconi anemia (FA) is a genetic blood disorder problem that affects children and adults from all ethnic backgrounds and may led to bone marrow failure. The disease is named after the Swiss pediatrician Guido Fanconi. It was Guido Fanconi who initially described the problem. However, FA should not be confused with Fanconi syndrome, also named after Fanconi. While Fanconi Syndrome affects the kidneys, FA is a rare and serious blood disorder that mostly affects children.





FA prevents the bone marrow from making enough new blood cells for the body or it can also get the bone marrow to make faulty blood cells. The shortage of new blood cells or the faulty blood cells can lead to several serious health problems, including leukemia. Primarily FA is a blood disorder; however it also can affect other important organs, tissues, and systems. Inheriting FA increases the risk of other serious health problems, cancers and birth defects. FA is characterized by higher incidence of solid tumors and leukemias, short stature, skeletal anomalies, one marrow failure, and cellular sensitivity to agents such as mitomycin C.
What It Does?
A patient suffering from FA faces a tough medical challenge where the bone marrow fails to produce blood cells. Moreover, FA patients are usually born with other birth defects like physical abnormality, kidney problems, eye problems and several other serious health problems. Many patients eventually develop acute myelogenous leukemia while other patients, especially older ones may develop esophageal, vulvar, head, neck and anal cancers. Even after a successful bone marrow transplant there are chances of developing some cancer and require frequent medical screening.



Bone Marrow Failure
The biggest threat FA poses is of bone marrow failure where the blood cell production by the bone marrow reaches an inadequate level. Detection of decreasing blood count is usually the first sign used to diagnose FA and to assess the necessity of treatment required. However in most of the cases a possible none marrow transplant is the only solution to get rectify the new blood cell deficiency. Unfortunately a bone marrow transplant operation has a relatively low success rate in FA patients when the donor is unrelated. If all precautions are taken, and the bone marrow transplant is preferably performed during the first ten years of the patient.
Myelodysplastic Syndromes
Also known as MDS and formerly known as pre-leukemia, myelodysplastic syndromes are a group of bone marrow neoplastic diseases that share many of the morphologic features of acute myeloid leukemia accompanied by some important differences. The percentage of undifferentiated progenitor cells, blasts cells, is always less than 20% and there is considerably more dysplasia, defined as cytoplasmic and nuclear morphologic changes in erythroid, granulocytic and megakaryocytic precursors, than what is usually seen in cases of acute myeloid leukemia.



Acute Myeloid Leukemia
All FA patients also have elevated risks of developing acute myeloid leukemia with the exception of promyelocytic. Myelomonocytic and acute monocytic are the most common subtypes observed in FA patients. It is also interesting to note that many MDS patients will evolve into AML given they survive long enough.

Effective guidelines and care are available for treating Fanconi anemia. For now frequent screening, early detection and treatment are the keys to prolong life of a FA patient. Although most of the FA patients don't see adulthood. However continuous researches are on so that an effective cure may be developed for FA.
Image Courtesy : Getty
Read more artilces on Understand Fanconi Anemia