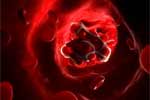 Excessive blood clotting can be acquired or genetic. Acquired causes of excessive blood clotting are more common than genetic causes.
Coagulation is a complex process by which the blood forms clots to block and then heal a lesion/wound/cut and stop the bleeding. However, your blood shouldn't clot when it's moving through your body inside your blood vessels. The tendency to clot too much is called hypercoagulation. It can be very dangerous.
Types of Excessive Blood Clotting
Many factors can cause excessive blood clotting including certain diseases and conditions, genetic mutations and medicines. These causes fall into two categories: acquired and genetic.

Acquired means that excessive blood clotting was triggered by another disease or condition. Smoking, overweight and obesity, pregnancy, use of birth control pills or hormone replacement therapy, cancer, prolonged bed rest, or car or plane trips are a few examples.

The genetic, or inherited, source of excessive blood clotting is less common and is usually due to genetic defects. These defects usually occur in the proteins needed for blood clotting and can also occur with the substances that delay or dissolve blood clots.




Acquired and genetic sources of excessive blood clotting are not related but a person can have both.
Risk Factors for Excessive Blood Clotting
Certain situations or risk factors can make it more likely for your blood to clot too much. These situations include the following:
Sitting on an airplane or in a car for a long time
Prolonged bed rest (several days or weeks at a time), such as after surgery or during a long hospital stay
Surgery (which can slow blood flow)
Cancer (some types of cancer increase the proteins that clot your blood)
Pregnancy (which increases the pressure in your pelvis and legs and can cause blood clots to form)
Using birth control pills or receiving hormone replacement therapy (which can slow blood flow)
Smoking
Relatives with abnormal or excessive clotting
Abnormal clot at a young age
Clots when you were pregnant, were using birth control pills or were being treated with hormone replacement therapy
Several unexplained miscarriages
Diagnosis of Excessive Blood Coagulation
If your doctor suspects you have hypercoagulation, tests can check the protein levels in your blood. The tests will also show if your proteins are working the way they should to properly clot your blood.

Complication of Excessive Blood Clotting
Kidney Failure
Pulmonary Embolism (A serious condition that can damage your lungs and other organs and cause low oxygen levels in your blood.)
Deep Vein Thrombosis (A blood clot in a vein deep in your arm or leg can cause pain, swelling, redness, or increased warmth in the affected limb can cause deep vein thrombosis (DVT).)
Peripheral Artery Disease (Narrowing of the peripheral arteries, most commonly in the arteries of the pelvis and legs.)
Pregnancy-related problems

With medicines and ongoing care, many people who have excessive blood clotting can successfully manage it.

Image Courtesy: Getty

Read more articles on Excessive Blood Clotting.