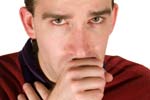 A contagious disease, Epidemic Pleurodynia is viral in nature causing pain in the lower chest and upper abdomen.
Epidemic pleurodynia disease is a viral illness with myalgia, causing pain in the lower chest and upper abdomen. In epidemic pleurodynia there is an acute infection that affects skeletal muscles and is most often caused by Coxsackie B viruses and rarely by Coxasackie A or echoviruses.

It is characterized by intense paroxysmal chest pain that is most commonly localized to the lower chest or the upper abdomen. The pain is often unilateral and is often accompanied by fever. Pleura are the lining around lungs and the pain arises in these linings due to viral infection .Pleural friction rubs are found in many cases, indicating associated pleural inflammation. The disease is self limited, usually lasting several days, but it may occasionally be characterized by relapse that occurs over a period of several weeks. The incidence of epidemic Pleurodynia is in the summer and fall.

Epidemic pleurodynia is known by several names such as Bamble disease, Bornholm disease, Sylvest's disease or devil's grip. The epidemic term has been given due to epidemic nature of the disease.

Epidemic pleurodynia is contagious and occurs in clusters, meaning many people in an area get it around the same time. It has been found that up to 90% of epidemics occur in the summer and early fall. Also, this illness most commonly strikes people younger than age 30, although older people also may be affected.
Read more articles on Epidemic Pleurodynia