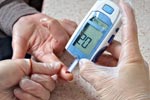 Diabetes is diagnosed by testing the blood for sugar levels. With the fasting plasma glucose (FPG) test, blood is taken in the morning after fasting overnight.
The disease diabetes mellitus is actually a group of metabolic diseases that are characterized by hyperglycemia resulting from defects in insulin secretion, insulin action, or both. The type 1 diabetes occurs due to a deficiency of insulin secretion.

[Read: How to Cure Type 1 Diabetes Naturally]

Here are the tests that are carried out for the diagnosis of type 1 diabetes mellitus
Glycated hemoglobin (A1C) test – This is the test that would indicate on your average blood sugar level for the past two to three months. The test is conducted by measuring the percentage of blood sugar attached to hemoglobin, which is the oxygen-carrying protein in red blood cells. So, the higher your blood sugar levels goes, the more hemoglobin will be attached to your sugar. When there is an A1C level of 6.5 percent or higher on two separate tests, then that would indicate that you have diabetes.
Random blood sugar test – For this test, your blood sample will be taken at a random time. Regardless of when you last ate, a random blood sugar level of 200 mg/dL (11.1 mmol/L) or higher will suggest that you have diabetes. The suspicion will increase if the result is coupled with any of the signs and symptoms of diabetes, such as frequent urination and extreme thirst
Fasting blood sugar test – There is another sort of blood sugar test that is taken by collecting the sample of your blood after an overnight fast. If your fasting blood sugar level less than 100 mg/dL (5.6 mmol/L) then it is normal. If your fasting blood sugar level is somewhere from 100 to 125 mg/dL (5.6 to 6.9 mmol/L) is considered prediabetes, and if it's 126 mg/dL (7 mmol/L) or higher on two separate tests, you have diabetes.

Read more articles Type 1 Diabetes Mellitus