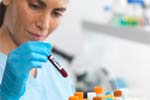 A blood test involves taking a blood sample from a blood vessel in your arm and is done to detect various health conditions that you may be suffering from.
If your doctor will not know what your blood looks like under a microscope, they will have no idea about improving your health and longevity. Your blood is one way of telling your health care professional steps that he should recommend protecting your health and enhancing your well-being.

Blood tests are the most common types of medical tests and offer a wide range of uses. During a blood test, a sample of your blood is extracted through an injection and then is tested in the laboratory. A blood test can be used for:
Assessing your overall health.
Detecting the presence of viral or bacterial infection.
Checking if your vital organs are functioning properly.
Screening certain genetic conditions.


A blood test takes just a few minutes to complete and can be done at your nearest pathology lab, at your doctor's clinic, and any local hospital. Most path labs today also provide the convenience of collecting your blood sample from your home itself for testing.

How is a Blood Sample Taken
Usually, the doctor will inject blood out of a blood vessel in your arm for a blood test. Your arm is a convenient option because it can be easily uncovered. The inside of the elbow or wrist are the most favoured places for taking blood from because the veins there are relatively closer to the surface. From children, the blood sample is usually taken from the back of the hand after numbing it with a special cream.

The lab professional will tie a tourniquet around the upper arm to squeeze it and temporarily slow down the blood flow in there. This causes the veins to swell with blood and easier for a blood sample to be taken.




Make sure the doctor cleans your arm area from where the blood will be drawn with an antiseptic wipe before taking the blood out. When the doctor will inject the syringe in your arm, you might feel a pricking sensation. Though very rare, some people might feel that they will faint because they are uncomfortable around needles and injections. Such people should lie down while giving a blood sample for testing.

You may have to follow certain special instructions for your blood test depending on the reason or condition you are taking the test for. For example, you may have to avoid eating or drinking anything, apart from water or may have to stop certain medications sometime before going for a blood test.
Read more articles on Blood Tests