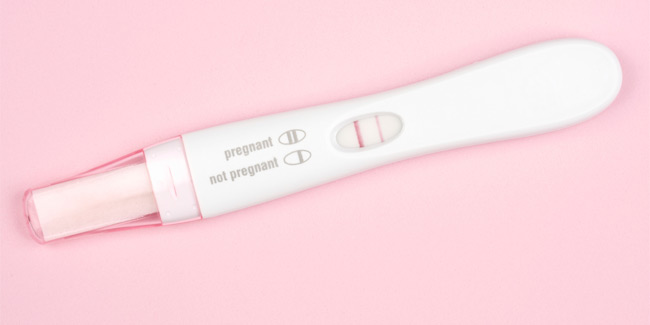 Pregnancy test kits are the easiest way of knowing that you are pregnant or not, but if you perform the test early, there is a chance of 'negative' test result even if you are pregnant.
If you are suspecting of being pregnant and are curious to find out if you actually are, doing a home pregnancy test is the easiest option you have to confirm it. But do you know when is the right time to about it?
For many, deciding on when to take a pregnancy test is baffling. The tests are qualitative and they either show negative or positive. If you perform the test early, there is a chance of 'negative' test result even if you are pregnant. If you are experiencing the early signs of pregnancy, you may feel tempted to take a test. Howver, you shouldn't rush to perform the test right away, but wait for a couple of days to a week after missing your period to help avoid a false test result.
Understating Luteal Phase
The home pregnancy tests assume a 14-day luteal phase, which is the time between ovulation and when you get your period. For example, if your luteal phase is usually 12 days, four days before your missed period would be 9 days after ovulation. It is too early for the test. On the other hand, the luteal phase of 15 days, though, 4 days before your missed period is 12 days after ovulation. You have better chances of an accurate outcome during this phase than the previous one. Someone with a shorter luteal phase has less chance of appropriate results than those with relatively longer luteal phase.
The Best Time to Take a Pregnancy Test
You must plan a pregnancy test after your first period post the sexual contact has been late or missed. For this, you need to know your cycles better or chart your cycles beforehand. The test may not reflect accurate result when you are past the longest menstrual cycle you usually have. For example if your cycles range from 30 to 35 days, the ideal time to perform a pregnancy test is on the 36th day or later.

Sometimes, the test kit is sensitive enough to detect pregnancy even on the day of the missed period. The level of hCG is not detectable so early in the pregnancy in some cases. A negative result on the first attempt might be because the test was performed early or the hormone levels had not risen to be detected. Therefore, if the test results come out to be negative, it is advisable to try and repeat the test after 72 hours.

In case the outcome of the test is positive, you should see an obstetrician to confirm the pregnancy.
Read more articles on Pregnancy