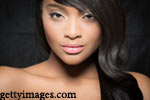 We may have all assumed African-Americans to have limited options to care for their hair's texture. On the contrary, they need and have a lot more options to care than anyone else.
The basic components of African-American hair are the same as the hair of any non-African hair. However, African-American hair tends to be more fragile and more prone to breakage because the structure makes it more difficult for the oils to work their way from the scalp to the ends of the hair. So, remember these hair care basics.
Plait your hair or cover it up using a scarf before going to bed. This will prevent hair breakage and reduce the number of tangles the next morning.
Wash your hair at least once a week.
Using a wide-toothed comb, comb your hair while it's wet.
Oil your scalp regularly and deep condition it once a month.
Massage your scalp regularly to promote circulation and oil production.
Put as little heat as possible on your hair.
Eat a nutritional diet.