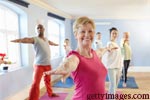 Exercises are like medicines for seniors. It helps them to recover quickly from diseases. Here is the list of exercises that old people must follow.
Exercise for seniors is important for a healthy life. Many old people feel disheartened by the fitness barriers, such as chronic health conditions or concerns about injury or falls..

There are a few basic lifestyle changes that senior citizens must incorporate as this will help them in the long run.

IRRELEVANT

Strength and Muscle: Sarcopenia is the fancy term scientists have given to describe loss of muscle, strength and quality of tissue often seen in older adults. Some experts have suggested that muscle mass declines about 1% each year from age 30.

Cardio Endurance: As we age, we often lose aerobic fitness and experts believe this contributes to reduced mobility in daily life.

Flexibility: Joints change with age and this can lead to stiffness, decreased range of motion and more injuries

Balance: Each year, hospitals see thousands of older patients for broken hips due to falling. Balance exercises can help you avoid injuries from falls and keep you independent and mobile.

The anti-aging diet has become hugely popular, but as always, it boils down to a few basic steps:
Eat healthy.
Regulate calorie consumption.
Avoid processed foods.

If you can be disciplined enough to follow these 3 essential rules most of the time, with only occasional indulgences, you will have your diet under control. Exercise for seniors is as important, if not more so, than diet.

It is never too late to begin leading an active life. Just remember that all things are good in moderation. Use common sense when you begin to add activity. Start small and build as you become stronger. While pushing yourself is important, pushing yourself too much will set you back.

Walking is one of easiest ways to start being active. It can be done anywhere at any time. A good pair of walking shoes are necessary once you develop stamina, but other than that, very little is needed. If the weather is a factor, you can walk indoors on a treadmill, around your home, or in the mall. Walking DVDs are abundant and can be used in your living room.

Swimming is another easy activity for beginners. I know the bathing suit thing can be intimidating, but if you can get past that, (and let's face it, who can see you once you're in the water), swimming may be the best exercise for seniors! It's easy on the joints and all you have to do is walk or jog in the water, or paddle yourself around to reap the benefits. Many cities have recreational centers with heated pools, and the cost is usually minimal.