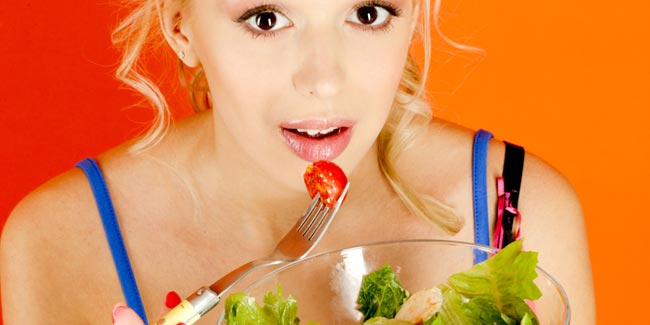 Unhealthy eating practices during pregnancy could be harmful for you and your developing baby. Here are list of various nutritious food options that will help you to have a safe and healthy pregnancy.
If you are carrying a baby bump and have no idea what to eat as the pregnancy progresses, do not be worried. We tell you exactly what to eat each week.
It is important that you are guided right about what to eat during pregnancy. Sticking to healthy food options will lead to safe and healthy pregnancy. Thus, follow the given advices irrespective of your lifestyle and stage of pregnancy.
Week Zero to Eight
Green veggies, especially leafy vegetables such as Spinach (paalak), fenugreek. leaves (methi), bathua, sarson, radish leaves (moolie) and lettuce.
Black-eyed beans such as bengal gram, chickpeas.
Citrus fruits such as muskmelon, oranges, sweetlime, grape fruit (mausambhi).
Fortified breakfast cereal - whole wheat flakes, oats, cornflakes, whole-wheat flour, bread and pasta.
Nuts, especially walnuts and almonds.
Avoid caffeinated drinks. Take coconut water, milk shakes, fresh fruit juices or lemonade.
Increase water intake to avoid dehydration.
Week Nine to 16
Green leafy vegetables such as spinach, radish leaves and lettuce.
Vegetables such as bottle gourd, bitter gourd (karela) and beetroot.
Whole-wheat items and brown rice.
Pulses like green gram, yellow lentil, kidney beans, and soya beans.
Twice in a week eat foods rich in iodine such as meat, eggs and fish (salmon fish, prawns and mackerel).
Dried fruits especially figs, apricots and raisins, walnut and almonds.
Bright coloured fruits such as oranges, sweet lime and apples.
Vitamin D sources such as dairy products especially milk, yoghurt, butter, margarine and cheese.
To prevent heartburn and constipation, take eight to ten large glasses of water a day.


Week 17-24
Dry fruits such as almonds, figs, cashews, walnuts.
Coconut water, fresh fruit juice, buttermilk and ample amount of water.
Calcium sources such as kidney beans, soya bean, cheese, cottage cheese, tofu, yoghurt.
Tonned milk (including fortified soya milk).
Green vegetables such as spinach, broccoli, fenugreek (methi), drumstick leaves, cabbage, capsicum, tomatoes, amla (Indian gooseberry) and peas.
Increase the intake of vitamin c sources, which include oranges, strawberries, beetroot grapefruit, lemon, blackcurrants, cranberries, tomatoes, mangoes and lemonade.
Snacks- roasted Bengal gram, upma, vegetable idlis or poha.
Week 25-32

By 25th week of pregnancy, your metabolic rate must be increased by 20 per cent thus, you will be burning calories at an increased speed and feeling much more tired and hot. Increase your fluid intake as it will prevent dehydration and constipation. To prevent gastric problems, eat smaller and more frequent meals.
Drink 10-12 glasses of water a day.
One or two stuffed paranthas with yoghurt.
Make sure to add handful of almonds and cashew nuts in your diet.
Eat fresh whole fruits rather than taking juices.
Salad with every meal.
Wheat bran, rice bran, brown rice and wholegrain cereals.
Root vegetables like onions, yams, potatoes and rye bread.
Soluble fibre sources such as apples, pears, bananas, berries, legumes and green leafy vegetables.
Oily fish, such as salmon, mackerel (Bangra machli) or herring. If you are vegetarian, take fish oil supplements.
Week 33-40
Eating well during the last trimester of pregnancy is extremely important, as baby is fully developed and prepared for its birth. A varied diet, rich in fruits and vegetables helps to further build baby's immune system.
To prevent gestational diabetes, opt for low-sugar items such as sugar-free biscuits, non-alcoholic drinks and biscuits with less sugar content.
Increase your consumption of cucumber, radish, carrot and green, yellow, and red pepper strips; and green leafy vegetables.
Consume plenty of vitamin C sources, such as strawberries, lemonade, steamed broccoli, amla juice (Indian gooseberry) or an orange or mango.
Take handful of dried fruits, such as dates, figs, almonds, walnuts, apricots or raisins daily.
Avoid spicy, oily and junk foods.
As you are nearing the time of delivery, you need to have produced sufficient breast milk. Thus, include special foods, such as brinjals, pulses (dal) and drumsticks to enhance lactation.
Keep your intake of tea, coffee and sugary drinks low.
A pregnancy diet keeps the mother and the daughter happy and healthy and that is exactly why it is so important to adhere to diet rules.
Read more articles on Pregnancy Diet.