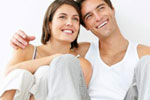 Ways to build trust in your relationship: You can build trust in your relationship by following some tips given here. These would provide you with the guidelines for paving the way for a beautiful relationship.
All relationships are built on trust and that's what keeps people together. If there is no trust, a couple is bound to split as soon as a crisis unfolds in their life. It can be difficult for people but with some tips to build trust in your relationship, they can hope to carry on with their relationship by strengthening the bond of trust.
Do not have secrets – You need to open out with your partner about something in the present that may be related to your past. It does not mean that you will need to reveal your entire life to your partner but just that there should not be anything hidden which can affect your relationship. Do not think you will go far in your relationship by acting as if you are all by yourself.
How friendly should you be outside of marriage – You and your partner need to talk and come clean on the boundaries that you people are going to set for relationships outside of marriage or a committed relationship. This is important to resolve the problem of jealousy which can often sour a relationship to the point of a breakup. You need to make sure that once boundaries are set, you adhere to them to increase trust in the relationship.
Do not mull over problems past – If you want to continue with your relationship, leave the past behind you. Going over the past troubles that your relationship went through would ruin your present. There are bound to be rough patches in every relationship but similarly, there are sunny times too. Why not remember the latter? This will help to build trust in your relationship.
Do not blame your partner – There are some traumas of life that can bring about negative experiences which include failed relationships in the past and other similar events. If your partner does something that reminds you of a breach of trust from the past, do not hold him/her entirely responsible for the same. Your partner is likely to be a different person who just made a mistake in the past but gotten over it in the past. A very serious problem that can arise if you blame your partner for his/her past blemishes is that when you make a mistake, he/she would not be forgiving.
If you follow the tips given here, your relationship can blossom into a long-standing, successful and a happy one. You need to be clear about how much you care for your partner. If you care enough, following these tips to build trust in your relationship would not be a problem.
Read more articles on Relationship Help