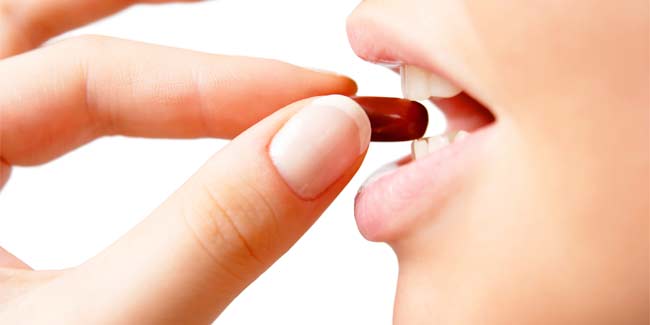 Vitamin C, E, B complex and other nutrients such as calcium, iron and zinc help to prevent hair loss in women.
Hair Loss in women can be a source of much despair. Hair loss can occur due to a variety of causes that range from child birth to anaemia. Ill health in particular can result in excessive hair fall. Vitamins can save your day and help you regain health and consequently your mane. Pregnant women who experience hair fall and do not want extra medicines may also opt for vitamin supplements. Do however, consume vitamin and other nutrition supplements with a doctor's approval and guidance. Overdoes of vitamins can be harmful too.
Vitamin A
Found in carrots, milk and almonds, vitamin A is a brilliant solution for a healthy scalp and hair regeneration. Vitamin A capsules can also be mixed with hair oil and applied directly onto the scalp. A more convenient idea would be to buy vitamin A enriched oils like almond oil to massage lightly on your head.
B Complex
Vitamins B1, B6, B12 and also Vitamin H are part of the B complex that do wonders for the health of your hair. If your doctor thinks you are suffering especially from B complex deficiency s/he will prescribe only those as a supplement. What is most wonderful about these vitamins is that they help absorb other nutrients from your diet as well. Mostly found in meat, unprocessed sugars, beans, bananas and potatoes.
Vitamin C
The healing properties of vitamin C are well known and any therapeutic exercise that involves vitamins is incomplete without it. Found generously in citrus fruits you can get a regular does by simply consuming nimbupaani everyday. Stay away from processed citrus juices though. Those are likely to provide more sugar than nutrients. Vitamin C is also available in chewable or effervescent tangy tablets that taste great.
Vitamin E
Said to improve the blood circulation, vitamin E can surely aid in the process of hair regeneration. Found in fruits like papaya and mango besides vegetables like broccoli and tomatoes. In fact, vitamin E is found in a variety of common sources and popular ones include roots like beetroot and sweet potato.
Other Nutrients and Minerals
For vitamin therapy to work you cannot solely rely on a pearl or capsule of 'multivits' as they are popularly called to aid hair loss. A healthy head full of hair needs all the nutrients it can gather.
Protein
Your hair is made up of keratin which is a protein. A diet rich in lean meat, eggs, lentils or daals along with dairy products will ensure that you regain your hair faster. As a macro nutrient protein is vital for your overall health and controls damages to the tissues.
Calcium
The mineral calcium found in milk, other derived products and meat will not only promote healthier bones but aid in hair regain.
Iron and Zinc
Many a times hair fall can be due to the deficiency of minerals like Iron and Zinc. It is important for your doctor to note if you're diet lacks especially in these.
Read more articles on Hair Loss.