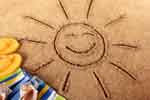 A team of researchers have found a link between the amount of vitamin D in a pregnant woman to the grip strength of her child when he/she is four.
A team of researchers at the University of Southampton say that higher levels of vitamin D at the time of pregnancy have been linked to a better development of muscles in children. The study was done on 678 children and showed that their vitamin D levels in the womb were linked to grip strength at the age of four.
The researchers say that muscle boost can persist through one's lifetime. Trials are being currently done to see how effective supplements taken during pregnancy are. A lot of the vitamin D that a person absorbs is through sunlight and other supplements that are offered at the time of pregnancy.

Certain doctors have put their concerns forward about deficiency of vitamin D as people have begun to be more sun aware and have linked the deficiency to a range of health problems. For the study, blood samples were taken of women who were 34 weeks pregnancy. Then, the vitamin D levels were compared with how tightly their child could squeeze a particular device at the age of four.

The study was published in the journal Endocrine Research.
Source: BBC News
Read more Health News.