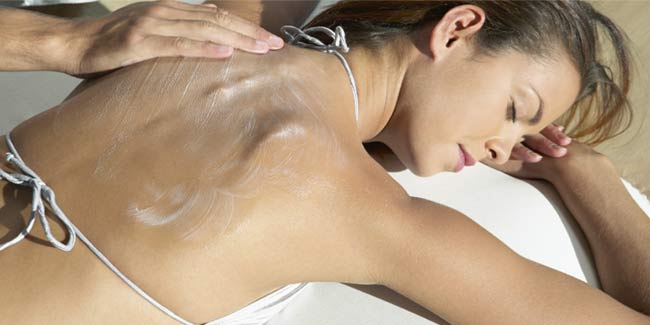 Frequent use of sunscreen puts your skin at a risk of skin cancer and other complications. Here are some instructions on using adequate sunscreen.
Whichever be the season, sunscreens shield your skin from effects of sunlight such as sunburns, discolouration and irritation.



Using sunscreen is not only an economical way to prevent suntan, but it can also reduce the likelihood of skin cancer to a great extent.

The skin may react in several ways when inflicted by sun's ultraviolet light rays. Sunscreens are indeed healthy for your skin, but should be used in moderation due to the possible threat of chemicals.


Frequent application of sunscreen or usage in excess is as harmful as its efficacy in protecting skin from the complications of exposure to UV rays. Researches show that frequent usage of sunscreen increases the chances of skin cancer. Bangalore-based dermatologist, Parveen Khurana, explained that most of the sunscreens contain harsh chemicals that can affect skin as well as other body parts if not applied properly. He pointed out that most girls apply sunscreen every time they walk outdoors.

Harmful Effects of Sunscreens

• Zinc oxide, an essential ingredient in sunscreens, is harmful for the skin.
• Some chemical compounds used in the formulation of sunscreen alleviate the risk of skin cancer with exposure of sunlight.
• Application of sunscreen in excess restricts supply of vitamin D to the skin. As a consequence, the process of bone strengthening is halted.

Instructions for Sunscreen Use

1. It is essential to spend time in the sun sans sunscreen to ascertain that there is no deficiency of vitamin D. Sporadic sun exposure decreases the likeliness of melanoma.
2. A sunscreen with higher SPF (sun protection factor) count i.e. ranging from 15 to 50 should be purchased.
3. Sunscreen with an SPF count close to 15 should be preferred as these block slightly more UVB rays for protection against sun.
4. Cream-based sunscreens are advised for dry skin, whereas oil-free sunscreen lotion should be preferred by individuals with oily skin.
5. Habitants of tropical regions must use sunscreens with SPF count close to 50.
6. Sunscreens should be used in moderation to avoid sun damage and ageing.
7. Sunscreens with SPF count within 15-20 are considered best for kids.
8. There is a misconception that people with dark skin tone don't need to apply sunscreen. Ultra violet rays also affect dark tone of skin. It is necessary to protect your skin from sunlight as first-degree sun burn can raise the risk of skin cancer.
9. Besides application of sunscreen, moving outdoors during the peak hours of sunlight should be avoided.
10. Protective clothing such as hats and long sleeves should be used to protect skin from sun exposure.

How to Choose a Safe Sunscreen:

• Look for titanium dioxide and zinc oxide based mineral sunscreens, which do not penetrate the skin and provide UVA protection against the sun's most damaging rays.
• Choose non-nano products that do not have small particles that can absorb into skin
• Choose sunscreens that are unscented or use essential oils as fragrance
• Pick lotion based sunscreens with water resistance
• Pick broad spectrum sunscreens that protect against UVA and UVB rays
• Choose sunscreen products that are rated 0-2 in the Environmental Working Group's Sunscreen Guide.
Read more articles on Tanning.