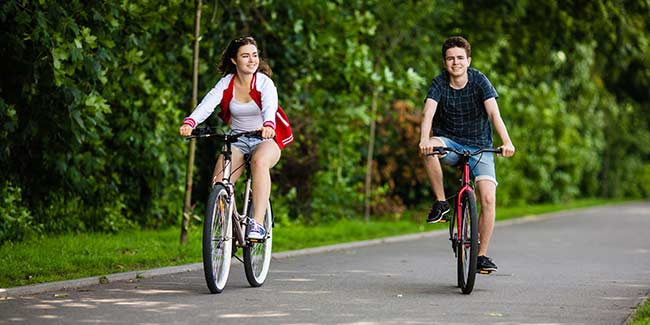 Getting in shape doesn't mean being confined to the four walls of a gym. If you love being outside, it's easy to take your traditional gym workouts and translate them to practical tasks in the great outdoors.
Maybe it's the sweat factor, but some people assume that a summertime stroll qualifies as a workout. No question, walking is a fitness fundamental, especially during the workweek. But why not try more invigorating and challenging fun workouts on the weekend?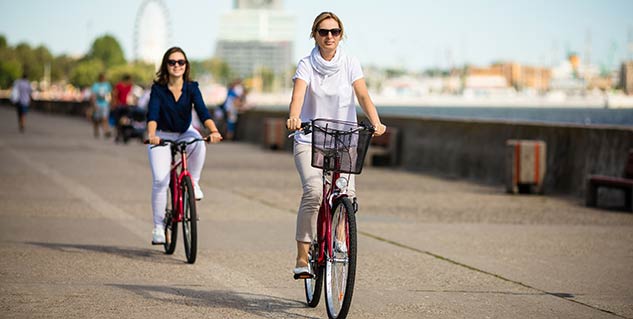 Outdoor activities allow you to reap up to six times more fat-blasting, body-shaping benefits than cruising around the neighbourhood on foot. And you don't have to be a hard-core athlete or fitness freak to get the most out of the five we're suggesting.
Rowing
Calories burned: 460 per hour

If you have ready access to the water, a rowing workout will leave your entire body feeling great. A traditional gym-style rowing machine offers a good workout, but, as always, there's no substitute for the real thing. Many cities have rowing clubs that offer lessons for beginners, and this is a great way to meet like-minded fitness enthusiasts. So, whether you're looking into rowing for the killer workout or for the social side of the sport, you can't go wrong.
Yoga
Calories burned: 178 per hour

When proper stretching techniques were developed thousands of years ago, they weren't done with the gym in mind. There's no better stretching routine than a yoga session, which can be a pretty peaceful thing to do in the fresh air. More and more yoga centres are offering fresh-air classes at parks, but if you're not into the group thing, it's easy to try some moves on your own. And because of yoga's popularity, it's easy to find a class suitable for your skill level.
Circuit training in parks
Calories Burned: 500 per hour, if you weigh 60 kgs

Many parks have basic circuit training stations that may seem simple but can go a long way in helping you achieve peak physical fitness. At these stations, which may sometimes seem like play structures for children, you can work on pull-ups, dips, jumps, balancing drills, and more -- each of which can be a substitute for traditional weight training at the gym. It's a great feeling to use your own body's weight as resistance and see how much muscle you can develop over time.
Cycling
Calories burned: 500 to 700 per hour, depending on speed and terrain

There's no doubt that a stationary bike is a great way to build your leg muscles, drop fat and get in shape, but you can achieve the same results outdoors. Whether you have a lightweight titanium bike or an old clunker, hop on and go. You'll pedal away the pounds as you enjoy the fresh air and you won't have to contend with fast-food commercials tempting you on the gym television, or with that annoying guy waiting impatiently for you to finish your workout.
Speedminton
Calories burned: About 400 per hour

Body benefits Tank-worthy arms. This hot new game is a cross between racquetball, badminton, and tennis but with no nets or walls involved. Players bat a speeder—which looks like the birdie used in badminton—back and forth using lightweight racquets. If you can swing a racquet, you can learn to play, and it's great cardio. The results are similar to those in tennis--sculpted arms and back, toned legs, and better hand-eye coordination.

Image Source: