Summers are beautiful yet very dreaded. Your body runs out of water in summers, the requirement for refreshing drinks increases. Talking about refreshing drinks, what could be more refreshing than traditional lassi fusioned with some refreshing mint? Nothing, we bet. Mint in your lassi will enhance the refreshing element of lassi.

This salted mint lassi will not only quench your thirst but will also save you from adverse effects of ruthless summer heat. Mint is good for your digestive system, it's a great mouth freshener and it instantly cools you down.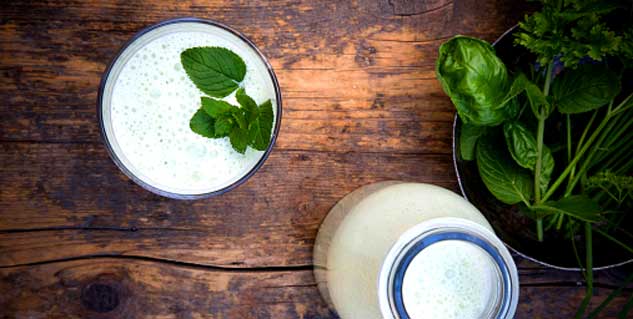 It will take only 5 minutes or may be less to prepare mint lassi for two people. You'll require these few items to prepare it.
Ingredients
Curd – 2 Cups
Mint leaves – ¼ Cups
Salt – ½ tspn
Ginger juice – 1 spoon
Black salt - ¼ tspn
Roasted cumin powder - ¼ tspn
Ice cubes - 4 to 5
Mint leaves for garnishing
How to prepare Mint Lassi
First of all take a grinder and mix mint leaves, curd, ginger curd, salt and black salt in 1 cup of water.
Pour the mixture in a glass and add some ice cubes.
Now, you can garnish it with mint leaves and cumin powder.
The mint lassi is ready to be served.

Image: Getty

Read more articles on Healthy Recipes.