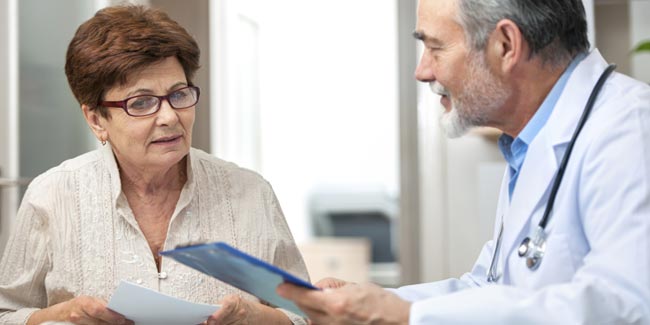 Menopause is a natural process that takes place in every woman who menstruates. Learn about the different types of treatments given to supress the symptoms of menopause ranging from therapies to medications.
Menopause is a natural physiological process after which a woman stops having menstrual periods. It should be not considered as a disease or an illness. Some women may have a range of symptoms such as hot flushes, night sweats, and mood changes. All the symptoms are caused due to hormonal changes associated with menopause. Medical treatment and some complementary therapy can control the symptoms of menopause.
[Read: Causes of Bleeding after Menopause]
Hormone replacement therapy: Hormone replacement therapy (HRT) helps to relieve the symptoms of the menopause by correcting the hormone levels. In HRT you will be given a medicine that provides a small daily dose of oestrogen. If you have not had a hysterectomy you will be given combined HRT. In combine HRT a progesterone-like drug is given along with oestrogen as part of the HRT. Combined HRT can be administered as either sequential or continuous therapy.
Sequential combined HRT: Sequential combined HRT is given to perimenopausal women (that is women who are still having menstrual bleeding although erratic). These preparations are designed to follow the hormonal changes of a normal menstrual cycle and result in monthly periods. Hence oestrogen is taken daily and progesterone is taken during the last 12 to 14 days of the cycle. Some preparations results in three-monthly bleeds and are given to women who are borderline menopausal.
Continuous combined HRT: Post-menopausal women (that is a woman who has not had a natural period for a year) are given continuous combined HRT as this is more suitable for them. It involves taking oestrogen and progesterone daily. When this type of HRT is given it does not produce periods.
Administration of HRT: HRT can be given in several ways but oral administration is the most common method. Other methods of HRT administration include skin patches, a small pellet or implant under the skin, a gel applied daily to the skin, a ring inserted into the vagina, or a nasal spray.
Side effects of HRT: Some of the common side effects of HRT include nausea, breast tenderness, weight gain, and fluid retention. In most women the side effects decrease gradually after the first few months of treatment. If you persist to have significant side effects consult your doctor or gynaecologist to adjust the medication.
Effectiveness of HRT: According to studies HRT can effectively reduce symptoms of menopause such as hot flushes, vaginal dryness and improve the general sense of wellbeing. However it has to be taken for a few months before the symptoms begin to improve.
Risks with HRT: The long-term benefits of HRT are considered ambiguous as there are many risks associated with HRT. Some of the risks associated with HRT include increased risk of breast cancer, heart disease, stroke, clots in the veins (venous thrombosis) and endometrial cancer
[Read: Herbal Remedies for Menopause]
Other Treatments for the Menopause
Tibolone: A synthetic steroid hormone which contains both oestrogen and progesterone effects (and some testosterone-like effects, too).
Clonidine: Actually it is a drug for treatment of blood pressure but in small doses it can relieve hot flushes.
Oestrogen creams and pessaries: These can relieve vaginal dryness
Complementary medicine: Several 'complementary' medical treatments are available for treatment of menopausal symptoms. Many women consider 'complementary' medications owing to the side effects and risk associated with HRT. Black cohosh is the most effective and most widely used complementary treatment.
Read more articles on Menopause.