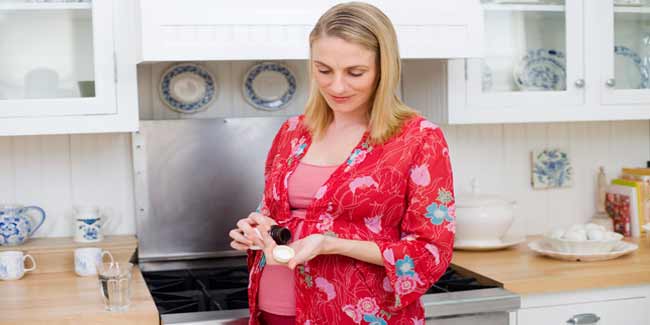 Women often become anaemic during pregnancy because the demand for iron and other vitamins is increased.Treating it is essential for mother and baby's health.
Depletion of red blood cells in the body leading to inability in carrying oxygen is called anaemia. It is usually caused by deficiency in iron in the blood. The disease is common during pregnancy because pregnant women are more in need of iron to supply blood to the growing baby. Generally, it is expected that the amount of blood in your body will increase by 30 to 50 percent from the start of pregnancy. This means a 100 percent increase in requirements of iron before pregnancy. You can get an idea why treatment of anaemia during pregnancy is so important.
Most women do not build reservoirs of iron to provide for the growth of their baby. Moreover, if they happen to have an unusually heavy vaginal discharge, anaemia can result. The iron requirements for the body are bound to shoot up for which the Centre for Disease Control recommends a 30 mg daily dose of elemental iron supplement for pregnant women. This becomes necessary for prevention or treatment of anaemia during pregnancy. However, it is feared that iron pills can cause diseases such as constipation and diarrhoea. Therefore, it is always advisable to take iron rich diet instead of pills to meet your needs of the mineral.
Diet for Treatment of Anaemia during Pregnancy
Green Leafy Vegetables – Spinach, Broccoli, Bok Choy, Kale, Bok Choy and other greens.
Fruits – Iron rich fruits are guava, apple, banana, mango, papaya, peaches and others.
Brown or Converted Rice
Beans – Tofu, Kidney beans, black-eyed peas are rich in iron.
Whole Grain Bread and Cereals
If you are taking iron supplements, increase the intake of vitamin C.

The trouble with supplementary iron intake is that it is not easy to digest. Even if it does get absorbed into your body, the results of treatment for anaemia in pregnancy do not show before 6 weeks. In general, the liquid forms of iron supplements are considered more easily digestible than pills. Vitamin C is a good absorbant for iron and you should increase its intake if taking iron supplement pills.

Other ways to digest iron or get it easily for treatment of anaemia during pregnancy are:
Cooking with cast iron.
Avoid drinks with caffeine such as tea, coffee, sodas or any other.
Do not take bran in excess.
Once anaemia is successfully treated when you are pregnant, it will make you feel healthier throughout your life.
Read more articles on Pregnancy Diet