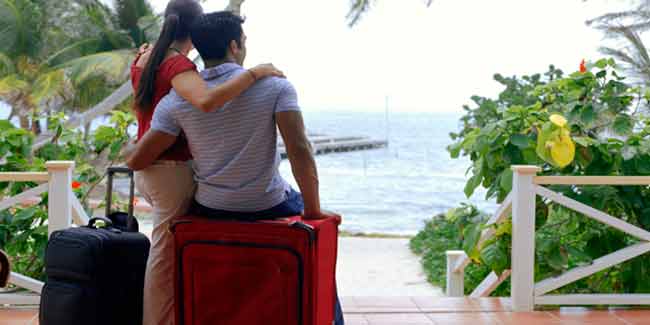 Travel during pregnancy needs to be undertaken with a lot of caution especially if you are 34 weeks pregnant. Here's a guide on travelling at 34 weeks pregnant.
The 34th week of pregnancy is crucial for pregnant women. At this stage, you need to be careful while travelling so as to avoid any complications or accidents.

You must refrain from travelling to far off distances once you have entered your third trimester of pregnancy. However, if you are healthy and have had a relatively complication-free pregnancy, you can travel.

By the 34th week, you and your baby would have gained a lot of weight and your belly must have become visibly big. You will invariably feel some discomfort in sitting or standing for long periods of time. Therefore, you need to keep certain things in mind in case you are travelling.
Comfort
You need to make sure that you are comfortable while travelling. If you are driving down, make sure you are comfortable on the car seat. Carry inflatable travel pillows with you so that in case your back or legs become sore from sitting for long duration, you can soothe them.
Be Ready with Snacks
When travelling long distances on the road, make sure you carry enough food and water so that you don't go hungry or feel dehydrated. Try packing protein bars, nuts, cheeses and fruits. Drink plenty of water because by the time you are 34 weeks pregnant, the fluid requirement of your body would have increased.
Precautions
Discuss your travel plans with your gynaecologist/obstetrician. Keep their contact numbers handy. Also, do a little research and locate hospitals close to the place you are visiting. You may also ask your doctor to refer you to a hospital there.
Be Prepared
Try and avoid travelling alone by the time you are 34 weeks pregnant. In case you absolutely have to travel alone, make sure that you keep your mobile phone charged and switched on. Keep your partner informed about even a minute change in the travel plan. And, don't forget to carry a health kit with you.
Ask for Help
If you are travelling alone, do not hesitate to ask for assistance. If travelling by air, inform the flight attendants about any special requirements that you might have. Do not hesitate to ask for their help as well.
Listen to your Body
If any symptoms of pregnancy are disrupting the normal functioning of your system, abort or reschedule your travel plans. The 34th week of pregnancy is an important time for both your baby and yourself. If you suffer some respiratory disorders such as asthma, rethink about travelling(especially for long distances).
At 34 weeks of pregnancy you are very close to delivering your baby and are in a very fragile state. At this time, you must follow the above mentioned tips while travelling during pregnancy.
Read more articles on Pregnancy and Travel.