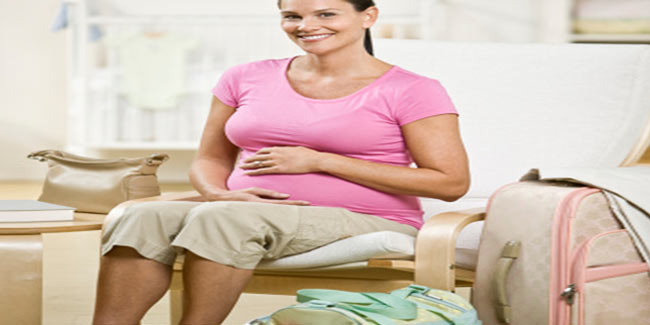 Moms-to-be can travel with a well-stacked travel kit to ensure safety. The travel kit needs to be based on the stage of pregnancy and any complications that the pregnant woman develops.
Been avoiding travelling but can't anymore? If you are worried about developing complications, a travel kit will do you good and make you feel much better and safer on the road, air or water.
Ideally, a travel kit must ensure that existing medical conditions can be managed even if they get more severe than their present stage, illnesses related to travelling are prevented and that minor health problems are taken care of.
Things to Include in the Travel Kit

Two pairs of disposable gloves
Talcum powder
Thermometer
Different sizes of adhesive bandages
Adhesive tapes
Gauze
Packets of oral rehydration salt
Prenatal Vitamins
Elastic bandage wrap for sprains and strains
Cotton swabs
Antifungal agent for vaginal yeast
Antiseptic
Acetaminophen
Scissors
Anti-fungal and anti-bacterial lotions or creams
Gels or creams to guard against insect bites
High SPF sunscreen
Saline eye drops
Urine dipsticks and BP cuffs (for pregnant women in their third trimester)
Digital thermometer
Blisters prevention with moleskin
Self-evaluated anti-malarial and anti-diarrhoeal medications

Complications that pregnant mums need to guard against are similar to those that any traveller should. The traveller's medical history has a bearing on her health and so does the itinerary, particularly during pregnancy.

Fatigue, indigestion, heartburn, constipation, cramping of legs, haemorrhoids and increased frequency of urination are some problems pregnant mums have in common with any traveller.

The needs of pregnant travellers change with symptoms specific to their condition. They are vaginal bleeding, abdominal cramps or pain, passing clots or tissue, ruptured membranes, headaches, visual problems and excessive leg swelling or pain.
Other Important Travel Tips
It is advised to discuss trip details with your doctor. You must plan something in case your doctor agrees.
When you are travelling alone, you must pack light. Carry snacks and a water bottle.
Make your trip as comfortable as possible. Book an aisle seat so you can get up to stretch or go to the restroom as easily as possible. If travelling by car, push back your seat to make space to stretch your legs.
If you're carrying multiples or are at risk of pre-term labour, you must not travel.
Carry a small pillow or slippers if your feet become swollen. Also, take a small blanket as well.
It is better to wear loose, comfortable clothing in a fabric that is breathable.
Travel kit acts like a first-aid kit in preventing and managing complications that develop during pregnancy and especially, when a pregnant woman is travelling. Make sure that you pack it first thing when you are gathering your travel essentials.
Read more articles on Pregnancy and Travel.