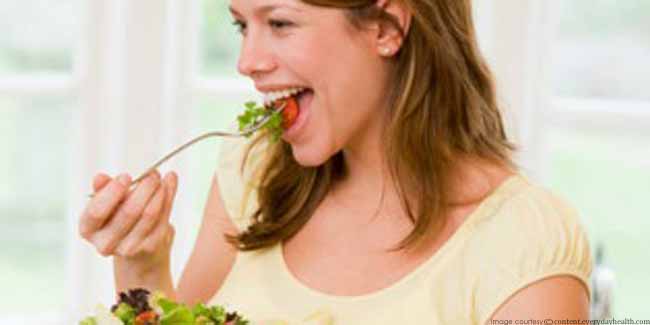 In the first and last trimester of pregnancy, fatigue is experienced particularly after meals. Manage this post-meal fatigue with changes in your meal routine and diet.
Tiredness during pregnancy is common to all women, especially in the first and third trimester of pregnancy. Usually, expecting women experience increased fatigue after eating meals. If you also experience tiredness after eating in your pregnancy, the factors responsible are given here, and the ways in which they can be managed.
Food-Related Strategies

Post-meal fatigue during pregnancy can be reduced or prevented with the following tips:
Avoid eating large meals. Divide your meals into small meals or snacks and eat them throughout the day. This helps in regular functioning of your digestive tract and will slow down the massive blood flow to the gut after a large meal, the process which leads to fatigue.
Unstable blood sugar levels in pregnancy can be another reason for fatigue. So, try eating protein along with carbohydrate to keep them stable. Sometimes a sudden increase in blood sugar is followed by a sudden fall; this causes the sensation of fatigue because your brain is deprived of nutrients.
Avoid Post-Meal Fatigue during Pregnancy
To avoid heartburn during pregnancy, do not lie down immediately after a meal, particularly in the last trimester. Sit down and put your feet up or put your back at the bed rest and comfort yourself with pillows.
Take plenty of rest during pregnancy and you may find that your fatigue was nothing more than deprivation of sleep.
Do away with eating too much of sugary or starchy food. Instead, include whole grain food items and protein sources in your diet.


Causes of Pregnancy Fatigue

Pregnancy fatigue is the outcome of hormonal upsurge in early pregnancy. Tiredness in later stages of pregnancy is the result of the weight of your growing baby. After you consume food, blood is diverted towards the gut and away from the other organs. Thus, tiredness is particularly intense after you eat.

During pregnancy, digestive tract goes through some significant changes. Thus, you feel tired after you eat. It functions more slowly and tends to require more blood. Dr. Miriam Stoppard in her book "Conception, Pregnancy and Birth", explains that changes in the digestive tract aid in the extraction of all the nutrients present in your food, and this helps in meeting the needs of the growing baby. The symptoms of tiredness during pregnancy which accompanies a meal can be avoided with an understanding of changes in your digestive tract.

You can take the guidance of your obstetrician to plan your meal routine and food items to incorporate in your diet during pregnancy.
Read more articles on During Pregnancy.