Your choice of picking items from a grocery shop directly affects your health and nutrition, therefore, going through the healthy grocery shopping tips is essential for you.
Healthy grocery shopping has a direct relation with good health and good nutrition. Thus its important to pick and choose those items which are full of required nutrition, proteins and minerals. This seems an easy job but actually its not that easy as it seems as it requires first, proper knowledge of the products and secondly, on choosing of the products like if you don't have anything in your kitchen which you require it may spoil the whole meal.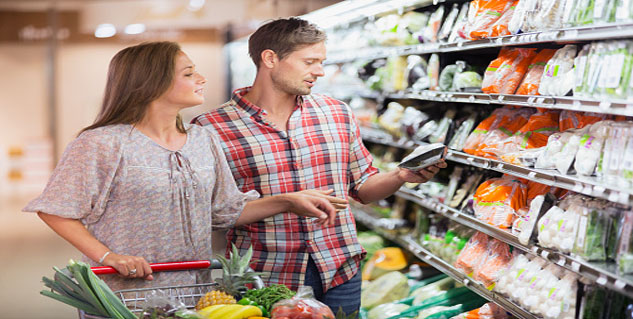 Requirement
Firstly, one should make a list of items required and then go for shopping. It helps in saving time also one knows what one requires, in what quantity and what one already have. Your shopping must include nutritious items like lots of fruits, vegetables, fish, poultry, dairy, whole grains and nuts.
Healthy picks
Buy more of fruits, vegetables and less of processed food like pasta, bread etc. instead one can use whole grain (wheat) pasta, breads and other items which are healthy too. Its also advisable to shop with your stomachs filled as empty stomach may lead to an unhealthy shopping which is impulsive.
It's always advised to the consumers to check the expiry date of the product and then buy but without much effect it is unheard. So be cautious of the manufacturing and expiry date of the products.
No bulk buying
Never buy items in bulk or too less. If one is able to save much money by buying in bulk say for a month or two then do think will this much be consumed in that time or no because buying in bulk which will not be used makes no good deal.
Variety foods
Its good to add variety so do include frozen veggies or canned food and such but don't buy that product which has more than five ingredients in it also if junk is a big no then its better to not to enter that section.
Avoid too much sugar
It's better to buy products low in sugar or sugar free items because much of sugar is harmful and high in calories with less benefit instead one can replace sugar with natural sugar like by adding fruits.
Ideal time for shopping
Its best to shop early in the morning or late at night because of fewer crowds and one can shop easily. If you have children then try not to bring them along or go for shopping when they are out.
Go to reputed stores than those offering discounts
Its good to try two stores rather than sticking to just one as different store offer discounts on different items on different time periods. So look before in the newspaper to get an idea. And if one has discount coupons do make use of them.
Read labels
One must read the ingredients before buying to know how much calories, protein, calcium, fats etc is contained in it.
Lastly, have a budget in your mind and if its exceeding too much then cut down on meat, dry fruits and such items as they are expensive.
(Image:Getty)
Read more articles on Shopping Advice.