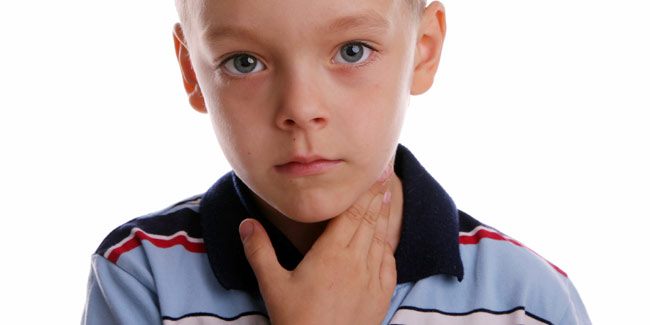 Thyroid problems in children is not an unusual thing to happen; rather parents should be more watchful in order to spot the signs of thyroid and thwart the disease.
There is a common misconception about thyroid disease is that it is considered as an adult disease, but it is not as rare in children as it is seen. If left untreated, it can adversely affect mental and physical well- being of a child. Parents often tend to ignore the early signs and symptoms of thyroid disorder in their children which results in hampering the growth.
Here are few tips to help the parents to cope with thyroid problems in their kids:
Be watchful


Always keep surveillance over your child's activities like on their performance in studies, increased frustration and impatience in their behaviour, erratic sleeping pattern, and delay in the onset of puberty. Thyroid problem is also known for its genetic nature. So, parents who are suffering from the disease are needed to keep a close watch on their child's development.
Knowledge of treatment


Thyroid is a disease which can be reduced if treated properly, allowing your child to lead a joyous life. Talk to the doctor regarding all the related treatments which can be given to the kid. Hyperthyroidism can be treated with anti-thyroid medicines or in some cases even, surgery. Meanwhile, hypothyroidism can well be prevented by using levothyroxine. It is advisable that you take your child to the doctor instead of self-medication or using OTC drugs.
Take your child for regular check-ups


Do not ignore the necessity of periodic blood tests. Check-ups at regular interval will help you to keep a track on the development of the thyroid disorder and eventually, it will also assist the doctors in prescribing medicines accordingly.
Diet plan for your child


If the child is suffering from any form of thyroid, parents need to make sure that the diet is sufficed. Maintain an adequate quantity of iodine in the child's diet in order to make the thyroid gland function better.
Seek an expert's help
As thyroid problem in children can sometimes be hard to diagnose even after repeated tests, it is advisable that you go to a paediatrician for a piece of advice.
Instead of being overly concerned, learning and understanding the small symptoms of thyroid disorder in your child will help you to tackle this disease better.
Read more articles on Thyroid.