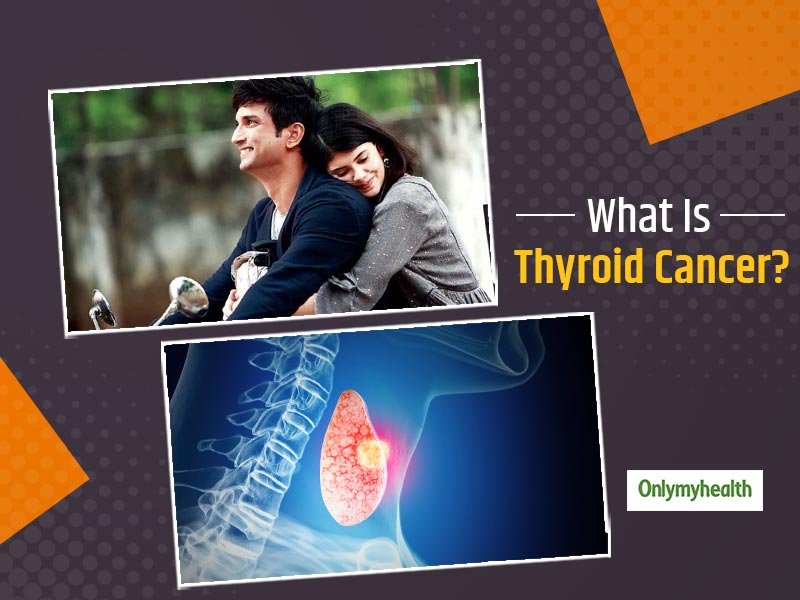 According to research, anaplastic thyroid cancer is found in hardly 2 per cent of people.
Thyroid cancer symptoms: Deceased actor Sushant Singh Rajput's last movie Dil Bechara, is all set to premiere digitally today (JULY 24) at 7.30 PM. After the actor's sudden demise, the fans and whole film fraternity are eagerly looking forward to the release of this extraordinary film. What story does it tell? Similar to the Hollywood adaptation and novel, Dil Bechara follows the tale of Kizie Basu a young girl (played by debutante Sanjana Sanghi) who has thyroid cancer, and Manny or Immanuel Rajkumar Junior (Sushant), a boy whom she meets at a support group. Many people do not know about thyroid cancer. Do you know that the diagnosis of thyroid cancer is favourable? And in most patients, this cancer is highly treatable. Researches have shown that the 5-year survival rates of the papillary and follicular carcinomas are about hundred per cent for stage 1 cancer, which decreases to fifty per cent in people with metastatic disease, i.e. step 4 cancer. As most people tend to have excellent and non-specific signs in the beginning stages of the disease, other patients tend to overlook the warnings.
Consult your doctor if you have any or all of the following signs indicative of some critical thyroid problem:
Lump in the neck: This usually is the most apparent sign of the thyroid problem. Most nodules or lumps grow slowly, but sometimes, the piece or nodule may develop in size quickly.
Difficulty in speaking or hoarseness of voice
Choking feeling or difficulty swallowing
Pain in your throat and neck.
Enlarged lymph nodes in the throat.
These are some signs indicative of the thyroid problem, but they are not specific signs of thyroid cancer. Similar signs can be caused in other issues such as benign enlargement of the thyroid, goitre, infection.
Signs that need instant consultation
Change of voice or unexplained hoarseness, if you lump the thyroid area.
Thyroid or lump nodule as a child.
Enlarged cervical lymph nodes with a thyroid lump.
Quickly growing painless thyroid mass.
Whom to Consult? If you have any difficulty indicative of thyroid condition, consult a health expert. Health specialists who can be asked include:
Surgeon.
Clinical oncologist.
Assistants of physicians.
Endocrinologist.
Nurse
Family physicians.
Apart from hyperthyroidism and hypothyroidism, there is another dangerous form of the thyroid that is thyroid cancer. It is of two types—the first Differential Thyroid Cancer. Disturbances in epithelial cells cause this disease. It is the most popular form of cancer. Another way of cancer is anaplastic thyroid cancer. Anaplastic thyroid cancer is fast-growing cancer. It is usually found in very few people. The people living with this cancer are mostly men 60 or older. In this, new types of cells come out which are entirely different from the tissues. Treatment of this cancer is not possible soon.
Also read: Know Best Essential Oils for Thyroid Hormones
What are the causes of thyroid?
Imbalance of hormones: Graves disease is the most significant cause of hyperthyroidism. In this, the thyroid gland exerts stress for the production and secretion of hormones. Due to which the balance of hormones is disturbed.
Iodine: People who consume iodine more are at higher risk of hyperthyroid, whereas its low intake causes fear of hypothyroidism.
Insulin Disturbances: Men who have an imbalance in the amount of insulin in their body are also at risk of getting thyroid. Diabetes patients should be alert to this.
Excess of Nitrate: People who use nitrate more in their food are also at higher risk of getting thyroid.
Bad habits: Men who smoke or drink have a fear of thyroid. This can weaken their body.
Genetic predisposition: One reason for thyroid problems in men may also be hereditary. If one's parents, grandparents or any member of the family is suffering from this disease, then you too can get this disease through jeans.
Health tips for thyroid
Lifestyle changes are significant to cure thyroid disease. During this time, a balanced diet should be taken and exercised regularly.
Diet should include foods containing protein, calcium, vitamins, magnesium and iodine.
If you smoke or drink, immediately quit these habits.
One can get rid of this disease by exercising or doing yoga for half an hour every morning.
Healthy Diet is the Key
Eat grains: Be sure to include dietary fibre in your diet to avoid thyroid. Under this, you should eat different types of whole grains.
Eat omega three-rich things: Include things containing omega-three fatty acids to reduce the increased cholesterol caused by thyroid. Fish oil and sesame oil will be good for this.
Take care of iodine: In hypothyroidism, iodine is deficient in the body. In this situation, eating iodized salt and seafood is excellent.
Do not ignore the nutrients: In thyroid disease, the body needs nutrients called selenium. This prevents the thyroid gland from being damaged. For this, you should include eggs, beans, beans and brazil nuts in your meal.
Zinc is also essential: Eating snail, oysters, fish and chicken are also beneficial in thyroid disease. It caters to zinc deficiency in the body.
Yoga and meditation are essential: Yoga is a practice, and the diagnosis of the most significant disease is hidden in it. Some yogasana is also very useful in thyroid disease. These will help keep the body fit and fit. Apart from this, meditating for 10 to 15 minutes daily will increase your self-power. Which will relieve you from tension, and you will be more alert to your health.
(With inputs from Dr Poonam Sachdev, MD - Pediatrics, MBBS)
Read more articles on Cancer