Do you find your hair oily and dull during periods? Most of the girls would say yes. The period days are commonly termed as bad hair days However, this oily hair appearance varies from person to person, with few experiencing it a couple of days before their period, while others on the day of their period.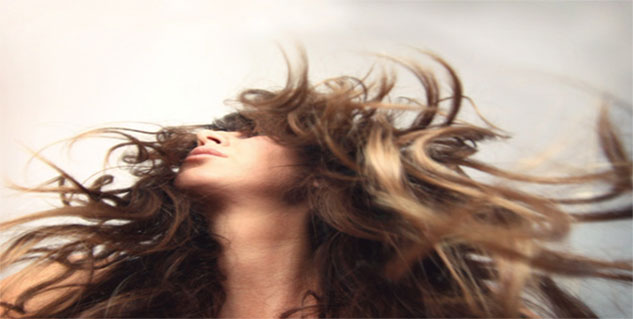 Science behind greased hair
Secretion from the sebaceous gland of scalp is the main culprit for oily scalp during periods. Sebum is the natural oil secreted by sebaceous glands present on the surface of scalp. While a small amount of sebum is essentially required for natural and healthy growth of hair as well as to maintain hair texture, excessive sebum production gives your hair a disastrous oily look. This greasy slick is even more prominent at puberty stage when a girl has started menstruating.
Estrogen secretion is found to be inversely related with the sebum secretion. Prior to the initiation of menstrual cycle body secretes excessive level of estrogen to stimulate the luteinizing hormone (LH) which prepares the body to become pregnant. This LH will enhance the sebaceous glands partially which is actually required for maintenance of good texture to hair. If the woman does not become pregnant then there will be a sudden call to degrade this estrogen levels by counter elevating testosterone hormone.
This phase is called as PMS (pre menstrual syndrome) and is dominated by testosterone hormone which signals the sebaceous gland to produce more oil and the condition persists throughout periods. While the girls with oily hair find it very difficult to manage their hair type, those with dry hair enjoys their freedom from dull and frizzy hair.


Prohibition of Hair washing during Periods – A Truth or Myth
This is completely a myth. Maintenance of hygienic condition during periods is always important and hair washing is always a part of this schedule. A warm water bath and an oil removal shampoo can in fact create wonders and helps you to get relieved from painful symptoms of PMS. However, it is suggested not to use soap in vaginal areas as it changes the vagina pH resulting in loss of good bacteria.
While gentle and repeated cleaning of vaginal area with warm water is highly recommended, soap induced changes in vagina pH may cause urinary tract infections (UTI). Similarly, at period time scalp becomes sensitive so one should not try any chemical treatment.
Blow dry or perming of hair is also not recommended.
Moreover, experts also suggest that pampering your body a week before periods with shower with some aroma oil or a deep conditioner will help to get rid of oily hair. It is also advisable to avoid junk and oily food to reduce excess oil secretion.
Image Source : Getty
Read More articles on Beauty and Personal Care