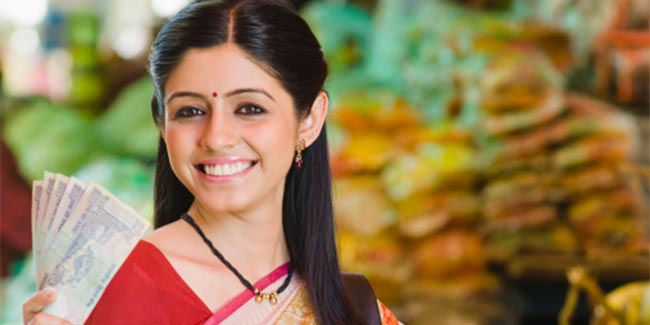 Saving is an important practice and a woman must know how to save wisely.
Being an average young metro woman, I too like shopping. In fact, I used to be a shopaholic. There was a time when I took 'Shop till you drop' a bit too seriously but as I got my first job and started earning, things changed a bit for me. I started respecting the concept of saving. No, I did not start saving right away after I got a job. At first, each and every salary that I got was spent on clothes, shoes, bags, food and every other material thing that existed but then due to some health conditions, my father had to quit his job and I was the only one left to earn the bread in my family. I have five members in my family, including me, just so you know and I made just 18000 INR per month, so it was very less for a family of 5.

As time changed, I realised that I cannot just spend money randomly on everything I laid my eyes on. The 18000 INR that looked like an enough amount to satisfy the shopper in me was not enough anymore to meet the ends. I had groceries, I had my brother's school fee and then rent and everything else. Then one day, I lost my job and was left with no money. If only I had saved some money before.

That was the time when I realised the value of saving for rainy days. I got a job and this time I was keener on saving then spending relentlessly. So, here are some tips and hacks that every must woman must try in order to save money.
Know the difference between need and want
I know how a shopaholic falls prey to shopping relentlessly. When you are on a shopping spree, you just buy whatever you lay your eyes on while half the things that you buy are absolutely useless. So, next time the shopaholic in you, decides to surface and ruin the things for you, think of your needs and wants. Learn the difference between need and want. You cannot need everything you look at.
Manage your finances
When you get your salary, do the necessary expenditure first like electricity bills, gas money, grocery and everything necessary. Then whatever money you are left with, save something from that too. Yes, do save at least some amount of money. Do calculate of all your necessary expenditures first and then save some money. If you are able to save every month then do save some money every alternate month or quarterly in a year.
Open an account
Open an account just for saving purpose. Every month deposit some amount in that account and forget about that money, don't touch that account.
Invest wisely
I did not know anything about investment when I was young but it was not too late. I started investing in funds. Do consult some financial advisor before going for any investing scheme. Invest wisely, so that when you are not in the condition to earn anymore, you have plenty of money to make it through the day.
Image: Getty
Read more in Miscellaneous.
For more such stories, Download Onlymyhealth App.