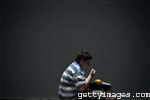 If you have been blaming food addiction to be a major cause for your obesity, here is a new theory that will make you run for a new excuse.
If you are in the fraternity of those who are conscious about their weight, but still over indulge in binging because they are "apparently" addicted to food, we know that you have been lying.
Professor John Blundell from the institute of Psychological Sciences at the University of Leeds warned that the term "food addiction" is being used more freely than it should be.A lot of people have likened food addiction to drug addiction and further used the term to link it with overeating as well as a clinical explanation for being obese. The professor highlighted that normal human social behaviour is pathological. Different forms of eating can become a type of illness and such as attitude does not help. Besides, it has massive implications for the way people look at their own lives and behaviour.

The way the term food addiction is being used is according to the professor an over-simplification of a very complex set of behaviours. Several animal studies have shown that changes to specific regions of the brain start in those that are given a sugary diet and the human brain scans show the activation of reward systems in the same part of the brain that gets activated when sugary foods are put into the mouth. Blaming the fact that obesity is because of one's addiction to food despite of the existence of other very obvious reasons does not help, especially those who are trying to live a healthier lifestyle.
Read more Health News.