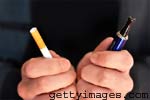 Even though e-cigarettes are not as harmful as regular cigarettes, they do have chemicals that can harm a person in different ways.
Electronic cigarettes are being banned from bars as well as restaurants in New York City and this move will bring the regulation of e-cigarettes just in line with the regular ones. Even though opponents of the ban opine that there is no proof that electric cigarettes are as dangerous as regular cigarettes, health experts say that the matter is still not clear and therefore, conclusions cannot be drawn accurately.
E-cigarettes work by using a battery to vaporize a particular liquid solution to deliver the nicotine that the user inhales. Though this vapour contains fewer chemicals compared with the smoke that is created by regular cigarettes, it still contains lots of carcinogenic chemicals. This was put forth by a 2011 study that was published in the American Journal of Preventative Medicine.

Pulmonologists in New York City say that the problem with electronic cigarettes is that there is no comprehensive data to prove that it is safe. They also addressed their shock at the advertising of this device, which consists nicotine-a highly dangerous substance that is several times more addictive than cocaine –with such a meager amount of safety studies collected so far.
Read more Health News.