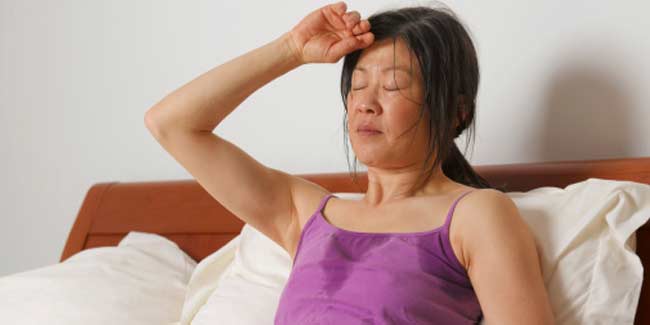 A transition phase to menopause, which is popularly known as perimenopause, can cause hormonal imbalance in the body, causing a disruption in your night's sleep. Here are some more facts on how your sleep and menopause is related.
Many females who are nearing their menopause often complain of insomnia. This actually is the beginning of the transition to menopause; this stage is called perimenopause. There are many factors that can have an impact on a perimenopausal woman's sleep, such as changes in the lifestyle and hormonal balance.
Hormonal Imbalance
When a woman is on the course of perimenopause through menopause, her ovaries slowly decrease the production of estrogen and progesterone. These hormones are promoters of sleep. This shift of ratios of hormones can be a disturbing process and can disrupt the woman's ability to fall asleep.
Hot Flashes
Hot flashes occur when there is a surge in adrenaline, which disturbs the brain during sleep. It often causes sweaty hands and a change in the body temperature.
Mood Swings
Almost 20 percent of women experience depression during this phase and in some cases, it has also been linked to loss of estrogen. But, hormonal changes may not be the only cause.
How to Manage a Good Night's Sleep
When you are unable to manage a sound sleep at night during your perimenopausal phase, you must see your gynecologist. There can be few factors such as your sleeping habits that could be causing insomnia. But, there can also be factors that cannot be under your control such as your hormones which can only be treated with medication. Women must be consistent with their wake up and sleep cycle. To ensure a good night's sleep you can use the following:
Have a dark and quiet room
Keep your room cool
Avoid drinking alcohol or consuming tobacco
Have a bucket of ice near you to cool you down quickly.
Treating Menopausal Symptoms
The most effective way to treat women who have their sleep affected by menopausal symptoms is hormone replacement therapy. In this technique, supplements for estrogen are given because it is no longer been made in your body. Estrogen can reduce hot flashes, vaginal symptoms and difficulty with urination. The treatment is preferably given for the shortest time possible and the lowest possible dose. When deciding to discontinue HRT you must first consider the value of a good night's sleep.

A sound sleep at night is vital. Thus, you must consider all sorts of ways to get it when you are going through perimenopausal phase.
Image courtesy: Getty Images
Read more on Menopause.