Everyone wants to flaunt their six pack abs, but the question is how would you maintain abs without doing crunches? Well, the key is the hidden ab muscle that one hears very little about.
Have you heard of a muscle called transverse abdominous that acts as a stabilizer to the middle part of the body? It is positioned right behind the abdominal muscles. If you are not familiar with it, you have got to sign up for the military because the military drill sergeants know how to get the transverse abdominous sore. These strong muscles make your stomach and back strong too. If you are looking for stable six pack abs, you must make these muscles strong. Following are three exercises that actually target the muscles that can help you attain six pack abs.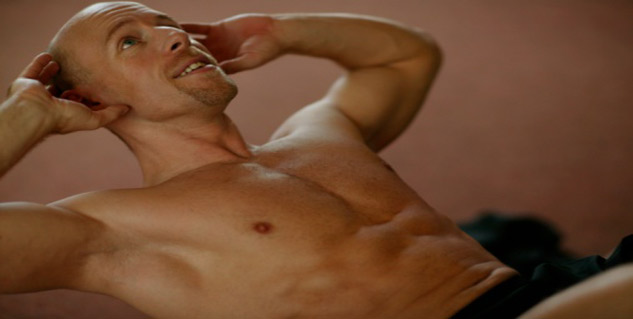 Focused crunch
Focused crunches are very different from the usual abdominal crunch that involves isometric hold.
You could lie on the floor with the knees bent and feet firmly on the floor.
Place your hands below and to the side of the belly button. Press fingers of both the hands into the lower abdomen.
Start drawing the lower abdomen towards the floor without moving the pelvis. The chest should also be raised slightly.
Prevent drawing your stomach as soon as the muscles begin tightening and the muscles under your fingers should feel tight. Moving too far would stop impacting your transverse abdominous and will end up stressing the oblique muscles.
Keep up with this position for at least 15 seconds and do 10 to 12 reps. Be careful about overdoing it for the first time.
Scissor kicks
To do this, lie on the floor with the knees bent and feet firmly pressed on the floor.
Position your hands under the buttocks and raise the head off the ground. If you can't raise your head, the exercise will lose its effectiveness.
Lift one leg almost 12 inches above the ground and lower it back slowly down.
Do this simultaneously with the other leg too.
Do three sets of this exercise with 10-12 repetitions and gradually increase your reps.
Customized plank push-up
This being a little tough might require little more caution.
Place yourself in a push-up position with the back straight and feet hip-width apart.
Do a push up by raising one of your legs as high as you can and switching with every rep.
Do at least 3 sets that include 10-12 reps and gradually increase your reps.
Combining your exercise with strict nutrition will help you target the hidden abs, making them tight and firm.

Image source: Getty