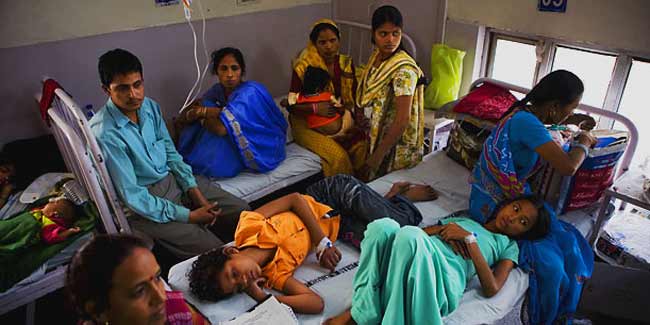 Japanese encephalitis is a viral disease that infects animals and humans. In India, a total of 165 persons have lost their lives in Assam due to this disease.
Almost every year, some "undiagnosed illnesses" invade India and unfailingly claim thousands of lives. Viral encephalitis, a major global emerging public health problem, is one of them.

Since the beginning of June 2014, 165 people have succumbed to Japanese Encephalitis Virus (JEV) in various parts of the state of Assam in India, following the onset of the monsoon season. Epidemiologists and officials cite a recent increase in the swine population to be a major reason for the rapid spread of JE in the region.

Between July and December 2005, a large and severe epidemic of viral encephalitis was seen in northern India. The disease gripped Uttar Pradesh, border areas of Bihar and Nepal.


What exactly is Japanese Encephalitis
According to the World Health Organisation (WHO), it is a viral disease that infects animals and humans. It is transmitted by mosquitoes and in humans, causes inflammation of the membranes around the brain.

When irrigation expands into semi-arid areas, the flooding of the fields at the start of each cropping cycle leads to an explosive build-up of the mosquito population. This may cause the circulation of the virus to spill over from their usual hosts (birds and pigs) into the human population.
Causes of Japanese Encephalitis
Mosquitoes become infected by feeding on domestic pigs and wild birds infected with the Japanese encephalitis virus. Infected mosquitoes then transmit the Japanese encephalitis virus to humans and animals.

The Japanese encephalitis virus is amplified in the blood systems of domestic pigs and wild birds, chiefly Ardeid (wading) birds. The virus is transmitted seasonally. In temperate regions, it is transmitted during the summer and early fall, approximately from May to September.

In subtropical and tropical areas, seasonal patterns of viral transmission are correlated with the abundance of vector mosquitoes and of vertebrate-amplifying hosts. These, in turn, fluctuate with rainfall, with the rainy season, and with migratory patterns of avian-amplifying hosts.

In some tropical locations, however, irrigation associated with agricultural practices is a more important factor affecting vector abundance, and transmission may occur year-round.
Symptoms of Japanese Encephalitis
Japanese encephalitis (JE) is a disease that affects the membranes around the brain.

Most JE virus infections are mild (fever and headache) or without apparent symptoms, but approximately 1 in 200 infections results in severe disease characterized by rapid onset of:
high fever,
headache,
neck stiffness,
disorientation,
coma,
seizures,
spastic paralysis
death


The case fatality rate can be as high as 60% among those with disease symptoms; 30% of those who survive the disease suffer from lasting damage to the central nervous system.

In areas where the JE virus is common, encephalitis occurs mainly in young children because older children and adults have already been infected and are immune.
Vaccine for Japanese Encephalitis in India
India in October 2013 launched its first indigenous vaccine to protect children from Japanese encephalitis. Until then, the country had been importing the vaccine from China.

The vaccine is meant to provide increased immunogenicity and long-term protection as a result of unique manufacturing technologies.

The results of clinical trial proved that JENVAC can be administered as a single dose during epidemics for mass vaccination campaigns and also as a two-dose schedule during routine immunisation as part of the National immunisation programme in endemic regions.

In wake of these pitiful number of deaths in Assam, chief minister Tarun Gogoi asked the officials to make a comprehensive action plan to control JE and AES (Acute Encephalitis Syndrome), including setting up of an ICU in each district hospital for treatment of emergency cases along with and laboratory testing units
He also directed the officials to ensure adequate supply of vaccine and medicine to big hospitals, district hospitals and other health centres.

Image Courtesy: Getty/ passionateinmarketing.com

Read more articles on Encephalitis.